Crawl Space Encapsulation Experts in Dallas/Fort Worth TX
As professionals in waterproofing residential and commercial properties in North Texas, let Dalworth Restoration show you how we can help waterproof your basement or control moisture in your crawl space. We have the experience, equipment, and best practices to design a complete basement waterproofing or crawl space encapsulation system that will protect the structural integrity of your residential or commercial property.
Dalworth Restoration technicians are highly trained and experienced at crawl space installation, crawl space waterproofing, and crawl space repair. Our reputation is backed by our work and customer satisfaction guarantee. We are committed to providing excellent customer service, crawl space expertise and solutions. Contact Dalworth Restoration today for our crawl space encapsulation and basement waterproofing services.
Crawl Space Encapsulation Products
Dalworth Restoration provides crawl space encapsulation products, which are consistently and extensively used in crawl space encapsulation projects by industry experts.
---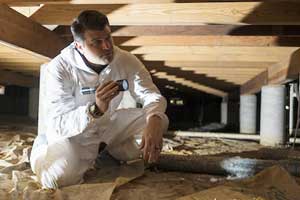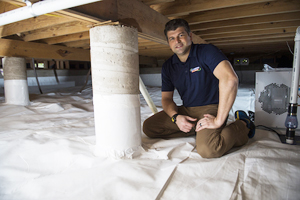 In the Dallas/Fort Worth area, Dalworth Restoration has exclusive access to waterproofing products, which have been used in over 200,000 basements since 1987. All of Dalworth Restoration's crawl space repair services and products include a written warranty.
Common Crawl Space Problems
Homes that are built on crawl spaces experience moisture evaporation from the ground, which can cause:
High Humidity Levels
Moisture, Mold and Mildew
Foul Odors in the Crawl Space and House
Wood rot and wood boring insects and rodents
Structural Problems - such as sagging beams and floor joists
Crawlspace Encapsulation System Benefits
Our crawl space encapsulation system provides immediate positive results by reducing and preventing moisture in the crawl space. The vapor barrier is a durable, sturdy seven-layer, 20-mil poly-reinforced liner material. We install the vapor barrier across the crawl space floor, on the walls and around pipes for complete encapsulation. Our complete encapsulation system also provides humidity control throughout the home and prevents mold, moisture, humidity, and structural problems caused by water damage.
Our Crawl Space Encapsulation System Services and Crawl Space Product Benefits include:
Fast, Clean Vapor Barrier Installation
Patented, Warranted Products
Water, Vapor & Pest Barrier
Reduced Humidity
Improved Air Quality
Reduced Allergens
Crawl Space Insulation
Improved Energy Efficiency
Lower Energy Bills
Insulated Storage Addition
When crawl space moisture and humidity are kept below 55% via the encapsulation system, mold and musty odors are eliminated and pest and rodent infestations and the resulting wood rot are eradicated as well. Overall your home will be temperature regulated with improved energy efficiency making it more comfortable and healthy for you and your family.
Call Dalworth Restoration at 817-203-2944 for crawl space encapsulation installation services. We provide FREE On-Site Inspections and Estimates in Dallas Fort Wort Arlington Grapevine Bedford, and the rest of North Texas. Check out our Dallas/Fort Worth Service Area to find your city.