Crawl Space Dehumidifier Installation in DFW
In addition to the crawl space encapsulation system, Dalworth Restoration offers and installs energy-efficient dehumidifiers for homes with specific humidity issues that require further conditioning in the crawl space or basement area. We also offer the crawl space fan that works with your home's HVAC system to remove excess moisture by carrying above ground conditioned air down into the crawl space.
Contact Dalworth Restoration today; our dehumidifier installation experts will answer your questions about all of our crawl space and basement dry solutions for a drier, better insulated and energy efficient home.
Crawl Space & Basement Dehumidifiers
If your crawl space or basement in the Dallas-Fort Worth area has ventilation problems, Dalworth Restoration offers these ENERGY STAR® rated crawl space dehumidifiers, which are three times more energy efficient and more powerful than common hardware store dehumidifiers. These are self-draining crawl space and basement dehumidifiers, which reduce high relative humidity in an area of 2,200 to 6,000 square feet for a complete moisture control solution to prevent mold and water damage to you home.
Dehumidifier (low-profile for small spaces) dehumidifies up to 2,200 sq ft.
Large Dehumidifier dehumidifies up to 2,500 sq ft.
Crawlspace Dehumidifier Crawl Space Dehumidifier dehumidifies up to 6,000 sq ft.
Eliminate Crawl Space & Basement Problems
Crawl space dehumidifiers will eliminate the following:
High humidity
Mold growth
Mildew and fungus
Poor air quality
Allergens and pollutants
Reduce Allergens and Improve Your Home's Air Quality
Dalworth Restoration's basement and crawl space dehumidification and air filtration systems will lower the humidity in your crawl space and improve the air quality throughout your home providing you with a virtually allergen free home so you can breath easy!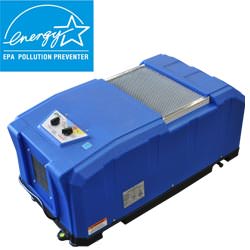 Simply using a dehumidifier in your crawl space or basement will minimize or eliminate tough allergens like mold and dust mites. Mold can't grow without moisture and dust mites can't survive without water. Once moisture levels are controlled and relative humidity drops to below 50 percent, dust mites are unable to absorb water from the air when their water supply is decreased and they can't survive and mold can't grow.
A basement or crawl space dehumidifier or air filtration system from Dalworth Restoration is the perfect solution to control moisture and reduce high humidity and allergens in your home. Call us at 817-203-2944 to schedule a time for a FREE crawl space or basement inspection. We will provide you with a detailed report and a FREE estimate.
Humidity Control Products & Services
We use a unique line of products, which have been consistently and widely used in crawl space encapsulation projects by leading crawl space professionals.
If you live in Dallas, Fort Worth, Arlington, Bedford, Euless, Keller, North Richland Hills, or any other city in the North Texas area, contact Dalworth Restoration for all of our crawl space and basement waterproofing and home energy savings services for a safer, healthier, and more comfortable home.