Crawl Space Ventilation & Improvements in North Texas
Contact Dalworth Restoration for a customized solution to fix your poorly ventilated, outdated crawl space area. We offer the latest in technology and crawl space encapsulation products to bring your crawl space up to date to meet current building codes and to give you a clean, ventilated and well-insulated crawl space that improves the condition of your Dallas-Fort Worth area home.
Crawl Space Ventilation Problems
In the past, prior crawl space building codes called for vents on either side of homes located in the Dallas-Fort Worth area. It was thought that the vents on one side of the home would draw musty and humid crawl space air and odors out through the other vent and old stale air would be replaced with fresh outdoor air in a continuous ventilation process. However, this theory proved to be wrong and proved crawl space ventilation with vents to be an out-dated method of ventilating a crawl space area.
Since air actually moves in an upward direction into the home - much like how air flows through a chimney - air coming through crawl space vents includes pollutants and airborne pathogens like mold spores, moisture, and humidity, which are all drawn through the vents into the crawl space and upwards into the home causing a host of problems.
Crawl space vents and air ventilation through these vents causes problems including:
Mold
Mildew
Wood rot
Poor air quality
Foul odors
Pests
Higher energy bills due to poor insulation
Crawl Space Encapsulation Solution
Dalworth Restoration's crawl space encapsulation system with vapor barrier and vent covers and doors offers a complete crawl space solution that:
Replaces old outdated vents with vent covers
Reduces crawl space moisture
Reduces humidity problems
Increases crawl space insulation
Reduces allergens and pests
Improves air quality
Reduces energy bills
Meets current building codes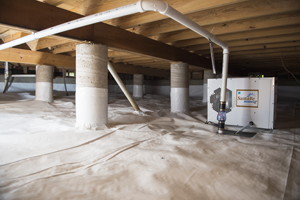 Crawl Space System Installation
Our expert technicians will inspect your crawl space and determine the best solution to seal your crawl space, reduce moisture, and insulate walls and floors. First, we seal the crawl space floors and walls with a crawl space vapor barrier, and then we seal crawl space doors, holes, cracks, openings, and gaps. Next we seal vents with vent covers and install new crawl space doors where needed to keep outside air out of your crawl space. If there is a combustible appliance, such as a furnace in your crawl space, Dalworth Restoration's crawl space installation experts will customize an encapsulation solution that allows for appliance air flow.
Crawl Space Encapsulation Products
Dalworth Restoration uses unique crawl space encapsulation products and basement waterproofing products, which are used consistently and extensively in crawl space encapsulation projects by industry experts and include a written warranty.
Contact Dalworth Restoration for crawl space encapsulation system installation in Dallas and Fort Worth. Our installation experts will work with you, your budget and the needs of your residential property to provide a crawl space solution that is customized for you. Dalworth Restoration offers FREE crawl space inspections and FREE estimates in our Dallas-Fort Worth service area. Call us at 817-203-2944 for any questions about our crawl space encapsulation systems and dehumidifiers to reduce moisture, provide proper ventilation, dehumidification and air filtration in your home.