Contain Your Energy Expenses with Crawl Space Insulation

Request a FREE estimate
Fill out the form below and a water damage restoration specialist will contact you shortly.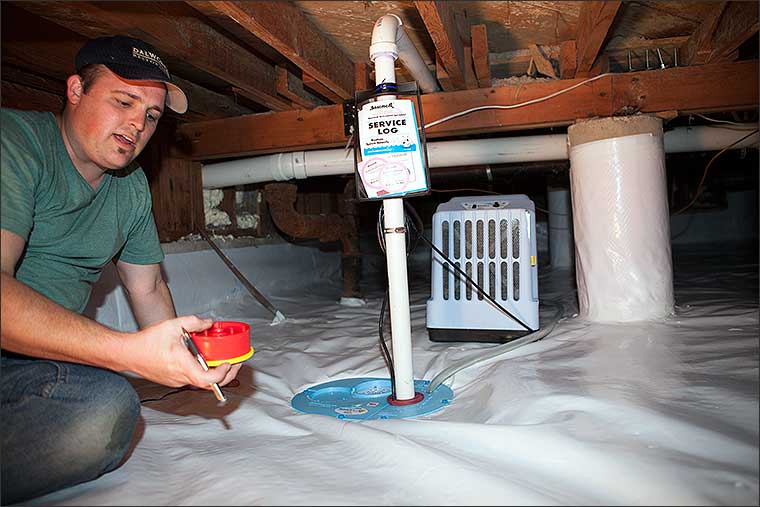 Insulating your home's crawl space correctly includes sealing out external air as well as managing moisture levels in the home. Polystyrene insulation is very effective in insulating the walls in crawl spaces and sealing the area from outside air. Crawl space insulation contains energy expenses, which is always good news to homeowners.
Unventilated Crawl Space Insulation
According to the latest scientific information available, ceiling insulation is not necessary, although it is always a good idea to check your local building codes for compliance reasons. In fact, the U.S. Department of Energy states that the optimal method for insulating an unventilated crawl space is to enclose, seal and insulate the foundation walls instead of the subfloor of the crawl space. There are several advantages to insulating the crawl space, according to the government's consumer's guide to energy efficiency. These benefits include:
Less insulation is required (about 400 sq. ft. for a 1,000-sq.-ft. crawl space with 3-foot high walls.)
Pipes and ductwork don't require additional insulation for energy efficiency or protection against freezing since they are enclosed within the house's conditioned envelope.
Air sealing between the house and the crawl space is not as critical.
There are some disadvantages to insulating a crawl space as well. These drawbacks are:
Insulation could be damaged by pests, rodents or water. Although polystyrene insulation should be unaffected by water, it could still be damaged or chewed up by rodents and various pests.
A radon mitigation system will require ventilation of crawl space to the exterior in case radon gas is present.
It is imperative to make crawl space airtight and maintain the air barrier. The training materials Dalworth Restoration employs explain and emphasize the significance of caulking and sealing off external air into the crawlspace. The crawl space encapsulation system we use employs the airtight method routinely with the outstanding products we work with.
The access door to the crawl space has to be located inside the home through the subfloor unless an airtight, insulated crawlspace door to the outside is used. We cannot create a vacuum to seal off all outdoor air, although the vapor barrier system we install comes as close as possible and is an outstanding method of insulating crawlspace. Crawl space insulation begins with proper sealing. In some cases, sealing is not enough and additional insulation needs to be installed in the crawl space. If you have questions or concerns about crawl space insulation, moisture in your crawl space or air sealing in your basement or crawlspace, call Dalworth Restoration. We will do our best to answer your questions and alleviate your concerns. We can also provide a no obligation, free estimate of your crawl space.