Thermal Imaging Testing Detects Moisture and Condensation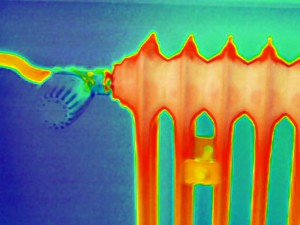 Why Choose Dalworth Restoration
Member of the Better Business Bureau (BBB)
Clean Trust Certified Technicians
Nearly 40 Years in Water Damage Mitigation
Licensed and Insured in the State of Texas
State-Of-The-Art Drying Equipment
Infrared Testing to Locate Non-Visible Damage
ANSI/IICRC S500-Standard Water Damage Restoration
Infrared Thermal Imaging & Water Damage Testing
Dalworth Restoration uses thermal image testing to detect water damage and mold damage not visible to the naked eye. Thermal imaging is an accurate method of detecting humidity, condensation and moisture problems in a structure. Thermal imaging is the use of heat-sensitive equipment to detect temperature variations and show this information as images. In water damage restoration and remediation, it is used to discover moisture problems and water damage not always visible to the naked eye.
How Do Thermal Imaging Cameras Work?
Thermal imaging testing equipment focuses on the infrared radiation that is discharged by both people and objects. Infrared radiation is detected by thermal imaging cameras, which produce pictures of this energy. Since more radiation is discharged with higher temperatures, thermal imaging testing shows the contrast of warm objects against cooler ones.
Assessment Tool for Water Damage Restoration Projects
Dalworth Restoration uses thermal imaging testing in water damage restoration projects to assess pre-existing damage and to determine and categorize recent water damage. Thermal imaging testing is a reliable diagnostic procedure that is extensively used by experienced remediation professionals. It is a valuable tool for investigating and evaluating hidden wet areas and can reduce the cost of repairs by locating water damage before it has a chance to cause permanent wood rot mold damage.
Mold Remediation - Comprehensive structural drying is crucial to successful restoration to prevent further water damage and mold growth. Dalworth Restoration checks for hidden moisture spots behind walls and floorboards, as well as in crawl spaces and basements, ensuring the property is completely dry. This allows the next step in the restoration project to commence. If mold is found, complete mold remediation steps are taken to ensure it is eradicated from the premises, followed by thorough cleaning, disinfection, and sanitization of the area that was affected.
Diagnostic Tool to Find Moisture Causing Water Damage
Thermal imaging testing is a great maintenance tool and can locate condensation that may lead to potential water damage hidden behind walls, in the attic or on the roof. It can show areas with insufficient or missing insulation or with air coming in through wood rot or unsealed cracks. Areas on the roof where ice dams may form can be diagnosed with thermal imaging testing. Thermal imaging cameras also detect pests and any pathways dug through attic insulation by unwelcome rats, squirrels, and other critters.
Direct Insurance Billing
Let Dalworth Restoration get started on your restoration project now. We will bill your insurance company direct while we work to complete your property restoration job on site.
Dalworth Companies - The Dalworth Brand
Dalworth Restoration is proud to be part of Dalworth Companies and our award-winning services. Dalworth Restoration is headquartered in Euless, TX and offers nearly 40 years of experience in these restoration, cleaning and home energy industries.
For all of your water damage restoration needs contact Dalworth Restoration if you live in Dallas, North Richland Hills, Southlake, Fort Worth, Arlington or any city in North Texas.