DFW's Trusted Leader in Restoration and Clean-Up, Since 1976
24/7 Emergency Services
Over 68,150+
Successful Restoration
Projects Complete
24/7 Emergency Services
Free Estimates
Work Directly with All Insurance Companies
Bonded & Insured
Asbestos Containing Materials in DFW Homes & Commercial Buildings
Asbestos can be present in any residential, commercial, or public buildings. Because it was used so frequently in the past, asbestos-containing materials are still present in a variety of older buildings and properties. Asbestos is a very dangerous carcinogen that must be properly removed by a professional asbestos abatement company so that it does not come into contact with people.
Dalworth Restoration is a professional, licensed local restoration and construction contractor that provides professional asbestos removal services in Azle, Burleson, Crowley, Duncanville, Euless, Frisco, and all other Dallas/Fort Worth areas since 1976. We are fully updated on state and federal regulations and thus are able to keep your property safe from asbestos materials with all safety regulations. If you suspect there are asbestos-containing materials in your home or office call us today at 817-203-2944 to get expert consultation or a free estimate.
Types of Asbestos Containing Materials in DFW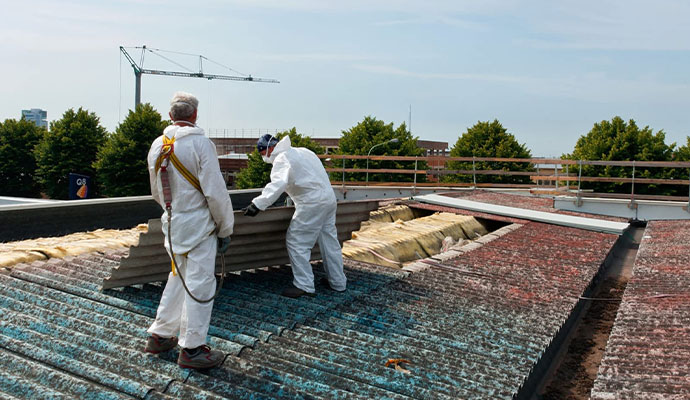 Asbestos Adhesives: Roofing sealant, pipe lagging, duct tape, furnace cement and glue for flooring, wall panels, ceiling tiles, and interior fixtures
Asbestos Construction Mastics & Gunning Mix: Used to repair or fill industrial materials such as furnaces, tile, or flooring.
Asbestos Duct Connectors: Fabric that connects HVAC system parts together
Asbestos Electrical Components: Ebonized panels, electrical shielding, molded cement bases, flash guard paper, wire insulation, and cable wrap
Asbestos Felt: Used in roofing, flooring and paper mills
Asbestos Fireproofing: Firefighter gear, tar paper, paint and spray-on fireproofing
Asbestos Gaskets: Heat-resistant seals for joining machine parts, valves and hoses
Asbestos Insulation: Loose-fill insulation, pipe wrap, block insulation, acoustic tiles, and spray-on insulation
Asbestos Plastics: Used in tools, cookware, appliances, and vehicles, especially for brake pads
Asbestos Sheets: Corrugated cement sheets, flat cement sheets, drywall and "asbestos lumber" for roof shingles and siding
Asbestos Textiles: Protective clothing, upholstery, and fire blankets
Asbestos Vinyl Products: Floor tiles, sheet flooring, and wallpaper
Health Risks of Asbestos Exposure to Humans
According to the EPA and the Department of Health and Human Services, THERE IS NO SAFE LEVEL OF EXPOSURE TO ASBESTOS (Learn more about the various health risk of asbestos exposure).
Dalworth Restoration: Your Trusted Asbestos Abatement Company in Dallas & Fort Worth
Dalworth Restoration provides professional, efficient, affordable, and safe asbestos abatement solution: expert consultation, thorough inspection, free estimates, testing as well as removal services in North Texas and the DFW Metroplex regions.
We test for the presence of asbestos in your property. Our experienced staff carefully analyzes the structure from top to bottom. Upon confirmation that asbestos is present, the property will be sealed off and our HEPA filters will keep asbestos particles from escaping and spreading.
We use specialized state-of-the-art equipment for the safe removal of asbestos from every corner of your home or business. We continuously stay up-to-date on the most current environment-friendly equipment and also the best options to get rid of asbestos.
We are trained, equipped, and IIRC certified to provide you with thorough asbestos abatement and removal services. To date, we have completed over 57,200 successful restoration projects. We have a proven track record for success in asbestos abatement.
Our project managers, superintendents, and trade specialists are experienced in efficiently removing any structural infestation. We have experience working in properties ranging from private homes, office buildings, academic campuses, hotels, hospital rooms, nursing homes/retirement homes, churches, daycare centers, retail locations, government offices, and many more.
In efforts to rid our local communities of asbestos, in affiliation with our industry-leading partners, we provide high-quality restoration and clean-up services to residential and commercial customers throughout North Texas.
We work with most insurance companies and thus understand the insurance industry rules and regulations very well. We will assist you with asbestos removal insurance claims as well as bill the insurance claims directly. The work we do is generally covered in your insurance policy.
We offer 24/7 Emergency Response service throughout the year and are on-site within an hour. We also provide on-site estimates and inspections for emergency services