DFW's Trusted Leader in Restoration and Clean-Up, Since 1976
24/7 Emergency Services
DFW's Trusted Leader in Restoration and Clean-Up, Since 1976
Over 62,000+
Successful Restoration
Projects Complete
24/7 Emergency Services
Free Estimates
Work Directly with All Insurance Companies
Bounded & Insured
Upholstery Cleaning in Dallas, Fort Worth, Plano, & Irving
Cleaning upholstery is a much more difficult task than cleaning other home attires or accessories such as carpet. That's because it is much more delicate and made up of a vast range of materials that can each react differently to fire, water, cleaner, or other natural or artificial elements. Thus it is crucial that if you are thinking about cleaning your upholstery get it done by a licensed professional.
Fortunately, Dalworth Restoration provides the best upholstery cleaning services in Dallas, Fort Worth, Arlington, Frisco, and other cities we serve throughout DFW. Dalworth Restoration is the licensed, professional, local restoration & clean-up service provider you can trust to get the job done right. Since 1976, we have offered a complete range of cleaning services for all kinds of residential and commercial properties.
So call us today at 817-203-2944 for an appointment or a free estimate. Our team is available 24/7 to assist you with any restoration or clean-up emergencies.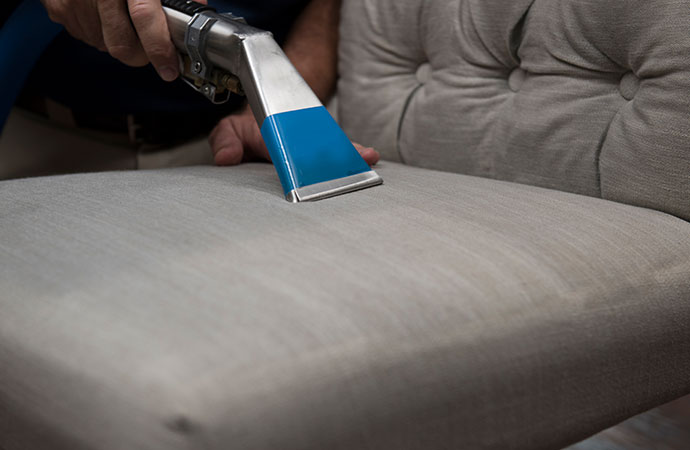 Challenges of Upholstery Cleaning
Upholstery Browning: This condition occurs when cellulose fiber fabrics are over wet, dry slowly, and especially when cleaned with an alkaline cleaning agent.
Bleeding: The undesirable loss of dye when the upholstery textile is immersed in water or across into an adjacent area or when in contact with another substrate.
Shrinkage: Occurs mainly in upholstery made with rayon or rayon/cotton blends.
Watermarks: Watermarks, also known as "rings" or "circling", may be caused by residual materials from spills or soil that remains after improper spotting.
DFW Upholstery Cleaning Process/Steps
Properly cleaning upholstery usually takes six steps:
In-Depth Inspection: Our expert technicians will perform an in-depth inspection of your furniture for any cleaning challenges.
Testing: The upholstery fabric will be tested to determine what material it is made of.
Vacuum: Dry vacuuming the upholstery is one of the best ways to eliminate the dry soil on the fabric.
Choosing Cleaning Agent: The fabric will be tested with the cleaning agent to choose the suitable one which will be then used.
Cleaning: The upholstery is then cleaned based on the information gathered during steps 1, 2, and 4.
Drying: The upholstery is quickly dried using air movers.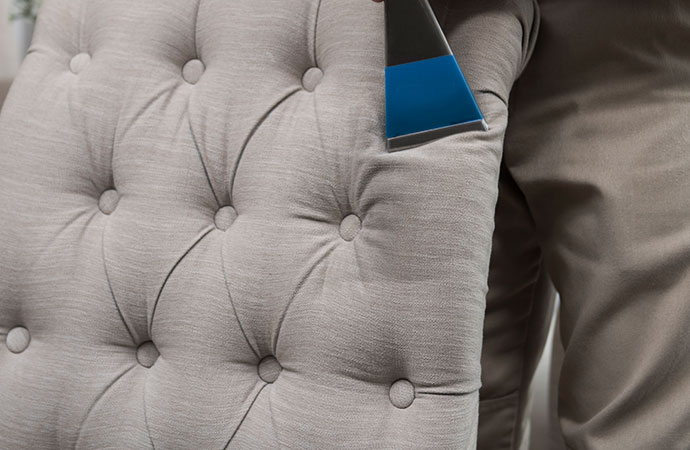 Let Dalworth Clean Your Upholstery in Arlington, Grand Prairie, Denton, & Frisco
For more than 40 years, Dalworth Restoration has been providing reasons for homeowners and business owners to trust us to clean their upholstered furniture, draperies, & more. The primary reason is that we get results when we clean upholstery! Other significant reasons include:
Member of the Better Business Bureau (BBB)
Clean Trust Certified Technicians
Serving since 1976
Restoration Services Performed to ANSI/IICRC S500-Standards
State-Of-The-Art Drying Equipment for Complete Water Damage Restoration
24/7 Immediate Response
Inspections
Estimates
IICRC Certified Restoration Crews
To get the most reliable professional cleaning service in Dallas, Fort Worth, Arlington, Denton, and throughout the DFW Metroplex, call us today at 817-203-2944 or contact us online.