Water Damage and Disaster Clean-up in Food Production Facilities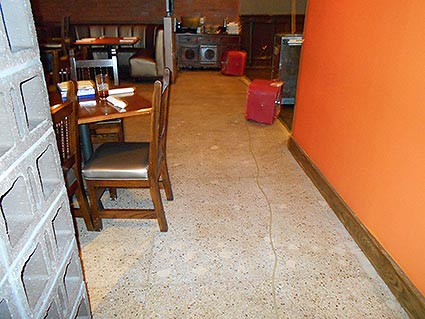 Flooding in food production facilities can have disastrous consequences. Unwanted water can damage machinery, equipment and furniture. It can also contaminate the food produced and cause dangerous diseases for people who consume it. If you spot any form of water intrusion in your Dallas-Fort Worth food production facility, contact Dalworth Restoration for a prompt and effective response.
Sources of Indoor Flooding
Floodwater can come from inside or outside a food production facility. Below is a list of the most common sources of flooding that we've seen after decades in the water damage restoration industry:
Hurricanes – Big storms can hit the Dallas-Fort Worth area from time to time. Strong winds and torrential rain can ravage even the sturdiest of structures. Though rainwater is generally clean, it gets contaminated as it hits the ground and makes contact with microbes.
Overflowing Lakes and Rivers – Sometimes, rain doesn't flood your facility directly but it can swell up nearby bodies of water. If a lake or river near you overflows, it will be hard to stop the flood from getting into your food production facility. Surging bodies of water can transport dangerous pathogens that can contaminate the food in your plant and trigger fungal growth.
Burst Pipes – Too much pressure or clogging can burst pipes that supply your facility with water. This can flood a building in a hurry if it isn't addressed quickly. Sometimes, pipes can develop pinhole-sized leaks. While this type of leakage isn't as violent as a burst pipe, it can go unnoticed for long periods of time and quietly flood your premises little by little.
Boiler Leaks – A malfunctioning thermostat or faulty fittings can cause a water heater tank to burst or leak. When this happens, you could be looking at a rapidly-flooding basement full of steam.
Dishwasher Overflows – Food processing facilities tend to rely on heavy-duty dishwashers to clean utensils. These machines can malfunction and leak contaminated gray water that can instantly ruin food with which it makes contact.
Toilet Overflows – Clogged toilets that wouldn't flush can overflow and spill highly contaminated water throughout surrounding areas. This type of water is dangerous and must be dealt with immediately.
Sewage Overflows and Leaks – Sewage pipes and septic tanks have been known to rupture and leak once in a while. Though very rare, when it happens, the water from this type of leak is extremely dangerous to humans and the food prepared in a manufacturing facility.
The Threats of Water Intrusion
Water can cause damage to a food production facility in more ways than one. Here's a list of things to watch out for when dealing with water intrusion in a building where food is prepared:
Structural Damage – Permanent wood and metal parts take the biggest hit when indoor flooding happens. Water exposure tends to weaken wood and it can hasten corrosion on metals. The longer your facility stays flooded, the more its structural integrity suffers.
Content Damage – Machinery and appliances are usually ruined when submerged in floodwater for long periods. Carpets, clothing and furniture could also be rendered useless if they aren't moved out and dried immediately.
Electric and Fire Hazards – When water comes in contact with live electrical wires and power outlets, the flooding situation becomes very dangerous. Water is an excellent conductor and any living thing that comes in contact with electrified water can die within seconds. Water can also short-circuit your facility's wirings and start a fire.
Food Contamination – Floodwater carries millions upon millions of bacteria that will transfer to food when contact is made. Any food that's caught in the flood must be immediately disposed of to avoid human consumption. Ingesting contaminated food can cause a wide range of serious and sometimes lethal gastrointestinal disorders.
Mold Growth – Mold is a common but harmful fungus that can grow practically anywhere as long as the conditions are damp and there's organic matter upon which to to feed. This makes food production facilities vulnerable to mold growth in a post-flood situation. A facility can look dry and clean, but mold spores can activate with high air moisture and hidden water pockets in hard-to-reach spaces.
Water Damage and Disaster Clean-up Solutions by Dalworth Restoration
When water starts invading and damaging your food production facility in the Dallas-Fort Worth area, call Dalworth Restoration for an assessment and cost estimate. Our friendly staff is ready to take your call and answer your questions at any given time. We take emergency calls and we guarantee to be on site immediately. We have an excellent track record in bringing residential, commercial and industrial property back to pre-flooding conditions.
When you hire us for a restoration project, we use state-of-the-art equipment to track floodwater down to the very last drop. This allows us to make an accurate damage assessment report that will serve as the basis of our treatment proposal and cost estimate. Once we get your go-ahead to start working, we'll contain the flood, extract it, then dehumidify all affected areas. We'll proceed with the process of repairing contents that can be salvaged and we'll dispose of the ones that can't be restored. Finally, we'll disinfect the entire area and start repair and replacement activities to get you back in business fast.
Call our number today and learn how we can help keep your food production facility in top shape. You can also visit our Contact Us page and send us email inquiries. For all your water damage cleanup and restoration needs in North Texas, trust only in Dalworth.