DFW's Trusted Leader in Restoration and Clean-Up, Since 1976
24/7 Emergency Services
DFW's Trusted Leader in Restoration and Clean-Up, Since 1976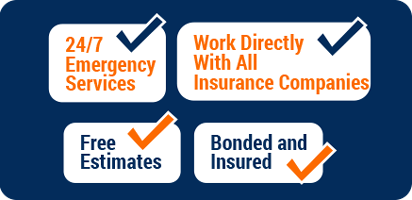 Fire and Water Damage Restoration Services in Azle, TX
Dalworth Restoration is a full-service restoration and construction company based in Azle, Texas, and serving the surrounding areas. When damage necessitates restoration, our crews will know exactly what to do, and our experts will ensure that all building codes and standards are followed as we restore your home or business in Azle be it fire damage or water damage.
Our team of competent, talented, and highly experienced experts at Dalworth work hard to restore your house or workplace to its original condition so that you have a good experience with us! We've been offering the greatest repair services in Azle, TX for a long time, and we've generally been people's first choice! To avail of our services, simply call us at 817-203-2944 now.
Services that we provide
Dalworth Restoration offers a wide range of restoration services to customers in Azle. This is because we want to cater to the needs of the people living in the city as much as we can. Our other services include:
For your convenience, we also handle insurance billing. When we file the paperwork for your restoration emergency, Dalworth Restoration will double-check that all of the required insurance billing codes are correct.
Rely on Us for the Best Restoration Services in Town
Since 1976, Dalworth Restoration has served the greater Dallas-Fort Worth area as a family-owned and operated restoration company. In Azle, TX, we provide inspections and estimates, so if you have a disaster in your home or business, call us today at 817-203-2944 or contact us online to learn more about our services!
Completed Jobs from Azle
Denise Z
February 25, 2020
We set drying equipment after we packed out all of the homeowner's contents that were in the affected areas. We cut out all affected materials and the homeowner also hired us to do the reconstruction. Once reconstruction was completed we moved the contents back to the home.