DFW's Trusted Leader in Restoration and Clean-Up, Since 1976
24/7 Emergency Services
DFW's Trusted Leader in Restoration and Clean-Up, Since 1976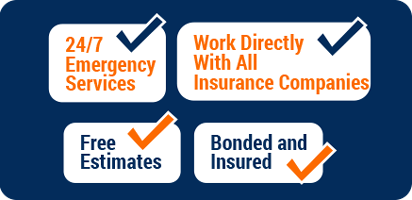 Water and Fire Damage Restoration in Azle, TX
Dalworth Restoration offers all types of restoration services that include water damage restoration, fire damage restoration, mold remediation, contents cleaning, and other related services for your home or office in Azle, TX. As a full-service restoration and construction company, we are fully licensed to work in Azle, TX and its surrounding communities throughout the Greater Dallas-Fort Worth area.
Some of our most popular restoration services we offer include
Our restoration technicians know exactly how to handle every situation when damage requires restoration or reconstruction. Our expert service team will even make certain that all the building codes and requirements are adhered to as we rebuild your residence or business in Azle. For your convenience, we also provide insurance billing. Dalworth Restoration will make sure that all the required insurance billing codes are correct when we help you prepare the paperwork you will file to your insurance company for reimbursement of your restoration emergency.
When a flood, fire, storm or heavy winds damage your property in North Texas, the company to contact to get things back to normal ASAP is Dalworth Restoration. Our expert technicians are trained through the Institute of Inspection Cleaning and Restoration Certification (IICRC) and are dedicated to serving our customers, exceeding their expectations, and making Dalworth a household name.
Our legions of satisfied customers and insurance companies prefer Dalworth Restoration and clean-up services based on our reputation and satisfaction guarantee. Dalworth Restoration is a family-owned and operated restoration company that has been servicing Azle and the rest of the Dallas-Fort Worth Metroplex since 1976. We offer inspection and estimates in Azle, TX so, if you have a disaster at your home or office, call us NOW at 817-203-2944
Contact Dalworth for Restoration Services in Azle
For more than 40 years, Dalworth has been the name to know and trust for fire damage restoration, water damage restoration, storm damage restoration, and any other restoration-related issues in Azle and throughout the Dallas-Fort Worth Metroplex. We have set the industry standard for residential and commercial customers when it comes to restoration needs in our local communities since 1976. Our emergency crews are standing by on a 24/7/365 basis to help in your hour of need. Contact us online or give us a call today at 817-203-2944 to discover the Dalworth difference when it comes to restoring your home or business.
Completed Jobs from Azle
Denise Z
February 25, 2020
We set drying equipment after we packed out all of the homeowner's contents that were in the affected areas. We cut out all affected materials and the homeowner also hired us to do the reconstruction. Once reconstruction was completed we moved the contents back to the home.