Our hardworking restoration crews will reassure you that all the building codes and standards are adhered to as we rebuild your residence or place of business in Irving. For your convenience, we also provide insurance billing so you don't have to worry about an added step in the restoration process. Dalworth Restoration will make sure all the required insurance billing codes are correct when we file the paperwork for your restoration emergency.
Dalworth Restoration is a family-owned and operated restoration company servicing the greater Dallas-Fort Worth area since 1976. We also offer inspections and estimates in Irving, TX, so if you have a disaster in your Irving or Las Colinas home or business, call us at 817-203-2944 NOW!!! 
Customer Reviews from Irving
Testimonials from Irving, TX
Blogs related to Irving, TX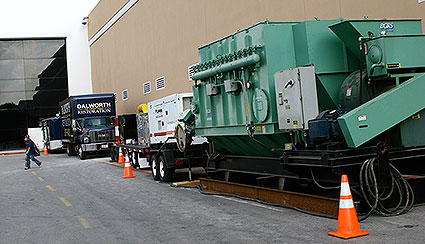 Sewage Block Disaster at a Mall in Irving, TX
After sewage and foul odor was filling a theater in a Texas mall, Dalworth Restoration successfully restored the theater back to a healthy establishment.
Estimate Request from Irving, TX
William W. on September 27, 2018 4:39:26pm
I need a clean-up at a home (3-2-2) of a former hoarder-can you call me for details; thank you...Wm Weaver
Andrew K. on September 23, 2018 1:00:47pm
We had some rain water come into to our house and 20-30sqft of carpet is wet. I'll be available for a call after 4:30pm today.
Bill C. on September 5, 2018 10:25:25am
Not an emergency, but would like you to quote a job. Recently, city water line was broken and my garage was flooded. Need quote for removing and replacing all drywall in garage, texturing, and painting. Also, complete removal of existing epoxy floor and installation of new commercial grade epoxy floor. Moving "stuff" out of garage, securely storing, and replacing after job is complete also required. City of Irving will be paying for this job.
Jose Luis C. on August 25, 2018 11:54:17pm
WE saw mold in three vents on our AC, our house smells humid. Would like to have an evaluation on the magnitude of the issue and estimate to resolve it. Thanks.
Johnson C. on March 2, 2018 8:10:32am
Ron Butzen
Rodney S. on October 20, 2017 10:54:23am
To Whom it May Concern: 1st, I would like you to know, I am new to the area and have recently relocated to the area. After over 23 years in the Louisiana and Mississippi construction markets, I have moved with hopes of becoming an integral part of the consistently growing, Dallas / Fort Worth construction market. A brief introduction of who I am working with. ACRO Glass is a local Dallas / Fort Worth Glass & Glazing Subcontractor that's been in a state of growth and is looking to expand its business relationship base. ACRO Glass is experienced in many type of glass manufacturing, furnish and installations, such as, but not limited to: MPrint High-Resolution Digital Glass Printing (Standardized & Custom) - Fire Rated Glass Frames and Door Hardware - Showers, Mirrors and Framed Mirrors - Window Wall and Curtain Wall - Storefront Frames and Glass - Glass Railings and Partitions - Glass Doors and Door Hardware - ColorBak Painted Glass - Automated Entrances - Glass Maker Boards I would appreciate the opportunity to speak with someone concerning how ACRO can benefit you as a contractor, your client(s) as an owner and the possible teaming opportunities in the future. Should you have any questions, please feel free to contact me. Thank you sincerely, Rodney H. Stoffer
Sarah T. on February 11, 2017 4:25:50pm
faucet left on, overflowed and needs water mitigation
Marci B. on February 9, 2017 9:02:42am
Air quality problem.
Heena P. on January 11, 2017 2:04:38am
came home from vacation to a busted pipe 4 rooms and hallway is soaked in water. need to see if you can come out to give estimate for extraction of water thanks
Persephone S. on November 14, 2016 5:14:48pm
Water pipe burst lastnight in laundry room. Pipe has been repair but laminate flooring is starting to bow.