DFW's Trusted Leader in Restoration and Clean-Up, Since 1976
24/7 Emergency Services
Over 66,200+
Successful Restoration
Projects Complete
24/7 Emergency Services
Free Estimates
Work Directly with All Insurance Companies
Bounded & Insured
Water Pipe Break Restoration in Dallas, Frisco & Allen
Sometimes water pipes break down due to old infrastructure or excessive pressure in the pipeline. In the winter, the freezing temperature puts enough stress in the pipe which reduces the strength. Without a proper inspection, it can result in a major leak on the walls.
When this happens and causes water damage to your property in Justin, Keller, Aledo, and other DFW cities because of a water line breakage that causes the need for a plumbing overflow cleanup, the IICRC-certified experts at Dalworth Restoration have got you covered. Our water pipe break restoration services are top-notch. We will clean up, dry, and restore any damage to your property and make sure no mold or bacteria starts to grow. Our high-end tools and equipment, along with experienced workers, provide the best service at an affordable price. To learn more, call 817-203-2944 or click here to make an appointment!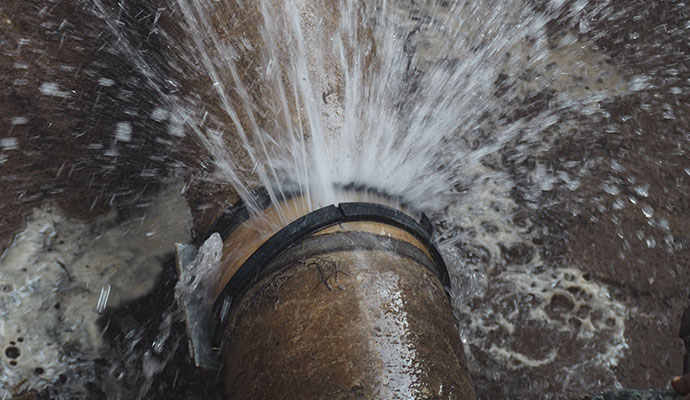 Water Pipe Break Restoration Process by Dalworth Restoration
Our experts follow a strict protocol for restoring your water-damaged property following a water pipe break. The steps include:
Our tenured staff inspects the affected area to check for damage.
Damage prevention treatments start ASAP to stop mold growth.
Using dehumidification, the affected areas are completely dried.
The damaged property is restored properly & leaks are sealed.
After the customer's approval, the project is marked complete.
Count on Us for Water Pipe Break Restoration Services in Keller, Dallas, & Fort Worth
In addition to water pipe break restoration services, our IICRC-certified restoration experts from Dalworth Restoration also provide superior asbestos removal services and other cleaning services for customers in Keller, Lucas, Boyd, Dallas, Fort Worth, and throughout the DFW Metroplex. To learn more about our cleaning & restoration services, call 817-203-2944 or click here to make an appointment today!