Furniture Restoration after Fire, Smoke, or Water Damage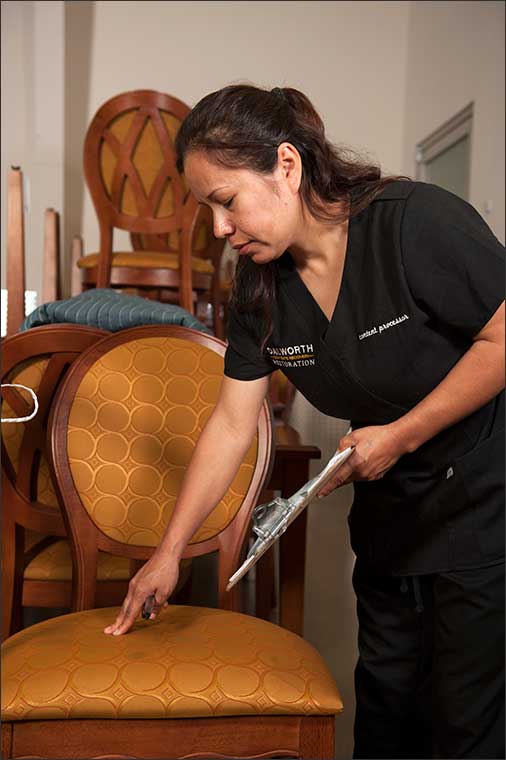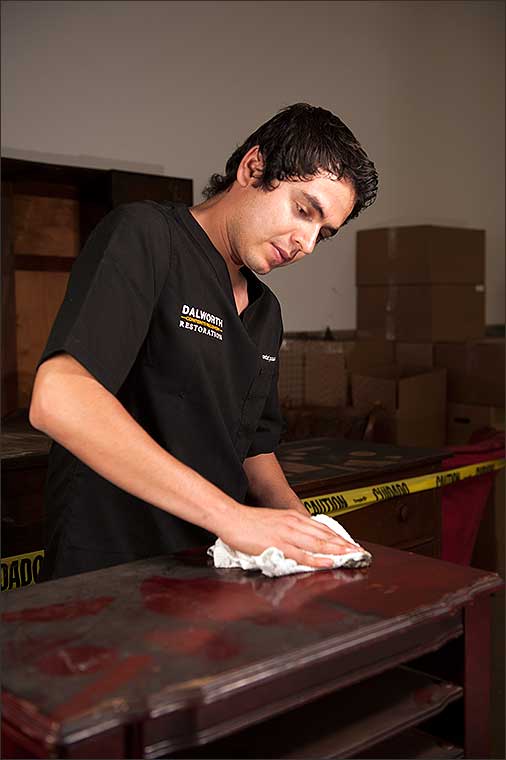 Since 1976 Dalworth Restoration has been in the fire, water and contents damage restoration business in the Dallas-Fort Worth area. We have the expertise to cleanup and remove damaged debris and and offer expert Contents Pack-Out, Storage and Cleaning services for your home or business. We will handle contents clean up and restoration promptly and professionally.
Professional Customer Service
24/7 Emergency Service 365
FREE Inspections
FREE Estimates
Call us at 888-778-9693 to restore your furniture and contents.
Why Choose Dalworth Restoration
All of Dalworth Restoration's technicians are IICRC Clean Trust Certified Technicians with the experience and training to safely and effectively perform our furniture contents restoration and water damage restoration services according to IICRC certifications and industry standards.

IICRC Certified Restoration Crews
Certified, Licensed and Insured Cleanup Services
State-Of-The-Art Cleanup and Drying Equipment
Excellent Customer Service
On Site In An Hour
Contact us now to start your contents restoration job. We will dispatch our contents team to your home or business in our Dallas-Fort Worth service area.
Furniture Damage Assessment
Furniture restoration following fire, smoke and water damage begins with a damage assessment. Dalworth Restoration's Contents Restoration Team will determine the extent of your furniture damage and determine the cost to repair versus the cost to replace furniture, so you can have reasonable expectations about the restoration of your furniture and our contents restoration services.
We will provide you with a complete and FREE damage assesment following the FREE inspection of your furniture before we begin the furniture restoration process. Contact us today to find out more about all of our contents restoration services to repair and restore commercial and residential contents.
Fabric and Upholstery Restoration
Dalworth Restoration's IICRC certified technicians restore:
fabric furniture
draperies
upholstery
carpet
Dalworth Restoration uses dry cleaning or steam cleaning methods to restore fabric, draperies and upholstery from furniture water damage, smoke damage and fire damage. Our climate-controlled facility is state-of-the-art complete with the highest quality equipment. Our certified and licensed contents technicians have the ability to assess all kinds of contents damage, including:
After the cleaning process is complete, furniture is then ozonated to remove smoke odors, mold and other pathogens. Ozonation is an effective method of treating upholstered furniture and other contents after fire, smoke, water, and mold damage occurs.
Furniture in many cases is considered unsalvageable and can not be restored when:
exposed to water for an extended period of time
has extensive mold and deterioration
exposed to contaminated substances and water
However, each situation is different and a restoration professional can help determine what items can be saved. When family heirlooms are fire or water damaged, the restoration-versus-replacement decision making process can be complex, as it will be necessary to factor in the sentimental value of the items. For example, antiques may be expensive to restore, but they are also difficult to replace.
Contact us today; we will bill your insurance direct while we restore your furniture and contents from water damage, fire damag and smoke damage.
Wood Furniture Restoration
Dalworth Restoration's certified and licensed technicians have the experience to salvage solid wood furniture. Both solid wood and fabric furniture restoration start with careful cleaning and drying.
Cleaning & Drying Process
The initial wood furniture cleaning process begins with gently removing any debris and dirt to prevent further damage. We also perform a special smoke damage and odor removal process in the case of smoke damaged furniture.
The wood furniture drying process is a longer process because some wood furniture must dry slowly and evenly to prevent water staining or other damage. If wood furniture dries too fast or at high temperatures, it may be distorted permanently by cracking or splitting. Dalworth Restoration carefully dries each piece of furniture in our climate-controlled contents facility and monitors the humidity of each piece to prevent any warping or other damage. This drying process can take from a few weeks up to a few months.
Inspection and Repair Process
We inspect the extent of the furniture damage by evaluating all compnents of the item and disasseble the furniture when necessary to speed the drying and repair process.
Inpsect and replace any parts from nuts to bolts
Dry and Store your furniture in ventilated areas away from direct heat and sunlight
Monitor your furniture regularly to make sure that air moves evenly throughout to prevent furniture warping or cracking
Order any replacement items to repair and restore your furniture
Use special equipment to straighten bent wood
Spot remove mildew
Repair and Rebuild furniture
Once we have cleaned, dried, repaired and restored your furniture, Dalworth Restoration will return your belongings to your property. Contact us today to find our more about our furniture restoration, contents cleaning and storage services.
Wood Veneer Furniture Restoration
Depending on the extent of the damage, wood veneer furniture may be possible to salvage with quick and timely action. However, the compressed wood, or fiberboard, veneer furniture is made out of is prone to swelling and coming apart when wet. As a result, the laminates and vinyl exteriors become unglued and should be inspected, cleand and repaired by the professionals at Dalworth Restoration. We can help you determine if it is worth restoring these items or if it is better to replace them.
Professional Contents Team
Dalworth Restoration's call center is standing by to take your call and is ready to dispatch a professional contents team to your location in the Dallas-Fort Worth area and surrounding cities to sort, pack, transport, clean and restore your contents.
Contact us today! We will help you file your contents insurance claim and start the contents restoration process now. If you live in Dallas, Fort Worth, Arlington, or any other city in the DFW or North Texas area, contact Dalworth Restoration for all of your water damage and fire damage restoration, construction, remodeling and home energy savings needs.