Washing Machine Leak Repair in Dallas-Fort Worth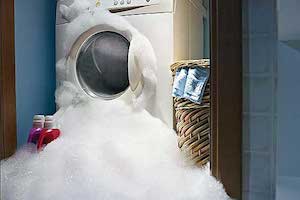 Washing Machine Flooding Cleanup
A leading cause of water damage in the home is washing machine overflow and washing machine connection failure. The primary cause of water damage from washing machines is with faulty or burst supply lines that leak or flood causing water damage and mold damage. Washing machine supply lines are pressurized, so even a small leak can flood the house in minutes. If your moving into a home or leaving a home or property with washing machine make sure the water is turned off.
If your turning on water at a residential or commercial property make sure there are appliances in place or the connections are turned off, if not this can lead to major flooding in your home and believe it or not is quite common. Contact Dalworth Restoration at the first sign of water leaks or flooding from your washing machine. We'll dispatch a technician to your DFW property immediately.

Washing Machine Maintenance & Leak Tips
Washing machines need to be inspected regularly to make sure all parts are functioning correctly. If not properly maintained, your washing machine can leak, flood and develop mold and cause mold damage and water damage to surrounding areas in your residential or commercial property.
Follow the manufacturer's instructions to reduce water damage.
Every 5 years: Replace the Supply Lines
2-plus days: Turn off Water Valves When Away From Home
Never Overload a Machine
Don't Leave Washing Machine Operating Unattended
Check your washing machine often and look for these signs that can cause appliance failure and appliance flooding:
Blistered Hoses
Worn Tubing
Loose Fittings
Appliance Overflow Cleanup Services
Appliances that hold water should be inspected regularly to see if they require repair or replacement. If left unchecked, what might start as a slow leak or appliance drip could eventually lead to appliance flooding or mold damage.
We offer appliance leak cleanup and water extraction, structural drying, and water damage restoration services for:
Water Heater Burst
A/C Unit Drain Overflow
At the first sign of appliance leaks, flooding or failure, contact Dalworth Restoration. We will dispatch a service technician to your location in our North Texas service area.
Why Choose Us
Available 24/7 Everyday
On Site In About An Hour
Excellent Customer Service
State-Of-The-Art Drying Equipment
If you have washing machine leak or washing machine flooding, contact Dalworth Restoration for service in our Dallas-Fort Worth service area. We are standing by to take your call at our 24/7 call center.