Appliance Leak Tips in Dallas and Fort Worth, TX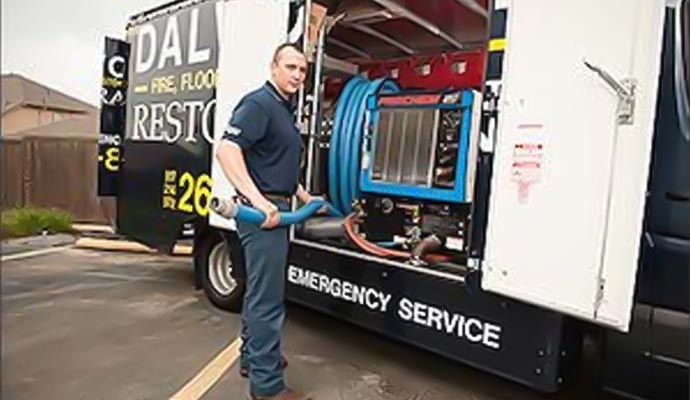 Dalworth Restoration offers Appliance Leak Cleanup and water extraction, structural drying, and property restoration services for:
Contact us for residential and commercial water damage restoration and appliance water overflow cleanup services in our Dallas-Fort Worth service area.
Appliance Leak Prevention Tips
Slow leaks and drips can lead to appliance flooding and water damage as well as hidden mold damage. To stop leaks and water damage before they occur, Dalworth Restoration recommends these appliance leak prevention tips.
Washing Machine Maintenance & Water Leak Tips
A leading cause of water damage in the home is Washing Machine Overflow and washing machine failure. The primary cause of water damage from washing machines is with faulty or burst supply lines that leak or flood causing water damage. Washing machine supply lines are pressurized, so even a small leak can flood the house in minutes.
Follow the manufacturer's instructions to reduce water damage.
Every 5 years: Replace the Supply Lines
2-plus days: Turn off Water Valves When Away From Home
Never Overload a Machine
Don't Leave Washing Machine Operating Unattended
Check your washing machine often and look for these signs that can cause appliance failure and appliance flooding:
Blistered Hoses
Worn Tubing
Loose Fittings
Contact Dalworth Restoration today if you have a broken washing machine or washing machine failure. We will send one of our professional and friendly technicians to your home immediately for emergency appliance flooding and appliance water cleanup services.
Water Heater Maintenance & Burst Prevention Tips
Every 6 Months: Remove sediment by flushing the tank
4-Plus Years: Inspect, Repair & Replace Water Heaters
10-Plus Years: Replace Older Water Heaters
The chance of a Water Heater Burst increases when the water heater is between 5-12 years old, and 75% of water heaters fail before they are 12 years old. It is best to maintain, repair and check your water heater periodically to minimize the potential of water heater overflow and water damage. When water heater flooding occurs and prompt action isn't taken, the rushing, scalding water can get out of control and flood other parts of your home or business. If your water heater is broken, flooding or in need of repair or replacement, call us at 817-203-2944 to have one of our certified water damage technicians dispatched to your residential or commercial property anywhere in our Dallas-Fort Worth service area. We will take care of all of your water heater overflow, water heater leaks and emergency flooding.
Refrigerator and Ice Maker Leak Tips
There are at least a few possible causes of Refrigerator & Ice Maker Overflow:
Clogged or Frozen Defrost Drain
Damaged or Loose Water Lines
Damaged Water Tank Assembly & Water Filter Housing
Damaged or Rusted Drain Pan
If you have pressurized lines bringing water into any of your appliances, check these supply lines on a regular basis. Make sure that all fittings are tightened and that there is no damage to the lines themselves. If your refrigerator or ice maker leaks or floods, call Dalworth Restoration today at 817-203-2944 for a FREE inspection and FREE estimate for all of our water cleanup and water damage restoration services.
Why Choose Us
Available 24/7 Everyday
On Site In About An Hour
Excellent Customer Service
State-Of-The-Art Drying Equipment
Dalworth Restoration's technicians are certified in water damage restoration. We offer a full range of water damage cleanup services. Contact us today to have one of our technicians dispatched to your residential or commercial property in our Dallas-Fort Worth service area.