DFW's Trusted Leader in Restoration and Clean-Up, Since 1976
24/7 Emergency Services
Over 68,150+
Successful Restoration
Projects Complete
24/7 Emergency Services
Free Estimates
Work Directly with All Insurance Companies
Bonded & Insured
Frozen Pipe Damage Restoration in Dallas, Fort Worth, TX
In the cold season, frozen pipe bursting is a common incident. In fact, it can cause flooding and bring more trouble to the home or property owners. Switching off the water supply system can save you for the moment, but an immediate restoration is needed if you want a more permanent solution. If you notice bad odor, fluctuation in water flow, unusual sound coming, or cracks in the pipes, don't delay and contact an expert.
Dalworth Restoration is available in Cedar Hill, Garland, Irving, Arlington, and our other service areas to help you out with all kinds of water damage restoration services for water line breaks, broken water pipe repair, pipe leak cleanup, and more. Our IICRC-certified are 24/7 ready to respond to your emergency call both for residential and commercial premises.
Dial 817-203-2944 today and set an appointment with our professional team for frozen pipe damage restoration servicing. To contact us online click here.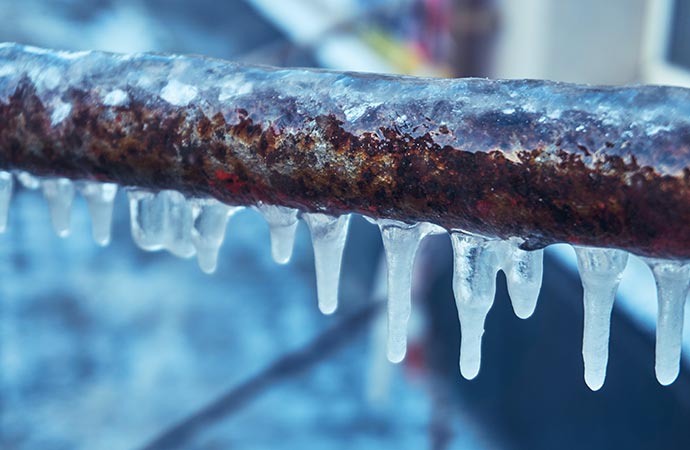 Why Frozen Pipe Damage Restoration?
Frozen pipe damage restoration secures your home by
Preserving Structural Strength: It prevents water from causing serious structural damage.
Limiting the Damages: Proper restoration doesn't let the water reach different parts of the building's structure and stops further damage.
Preventing Mold Growth: It eliminates the extra moisture and doesn't let harmful microorganisms grow and spread.
Maintaining a Hygienic Environment: The restoration keeps the indoor air quality fresh and safe by driving away the dampness and bad odor.
Call Us to Get a Quick and Professional Restoration Service in DFW
Since 1976 Dalworth Restoration has been a name of trust and popularity among its customers. You can rely on this family-owned and operated company that always puts their customer satisfaction first. We are available at the number 817-203-2944 or you can contact us online by clicking here. Check out our other major water damage-related services such as plumbing overflow cleanup, appliance leak cleanup, etc.