DFW's Trusted Leader in Restoration and Clean-Up, Since 1976
24/7 Emergency Services
Large-loss Restoration Equipment in Dallas-Fort Worth
Floods, fires, storms, and other disasters can seriously damage commercial structures such as retail stores, office buildings, and warehouses. At Dalworth Restoration, our restoration experts are dedicated to assisting local businesses in getting back up and running swiftly after serious damage or loss.
With experienced specialists and innovative large-loss restoration equipment available 24/7, Dalworth Restoration is ready to meet your large-scale restoration needs. For decades, we have assisted customers with large-loss and commercial restoration in Frisco, Arlington, Plano, Dallas, Fort Worth, and throughout our Dallas-Fort Worth service area. Call Dalworth Restoration at 817-203-2944 or contact us online to schedule a consultation for catastrophic, large-scale losses that require our large-loss restoration equipment.
Dalworth Restoration is Your Large-loss Equipment Solution in Plano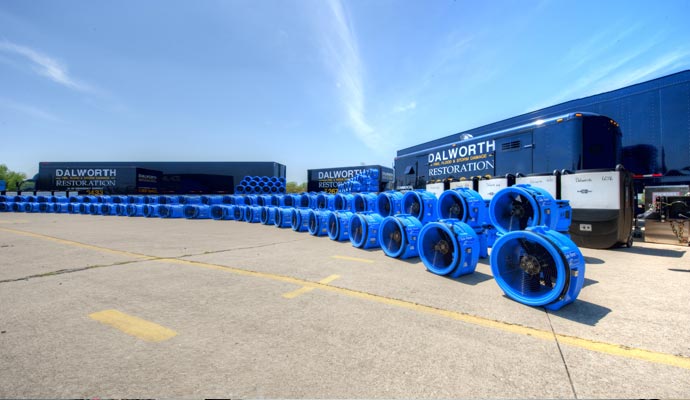 Our commercial restoration for catastrophic losses are accessible to company owners throughout our D/FW service region at Dalworth Restoration. We have extensive training, talent, and experience in commercial disaster recovery, as well as the most innovative and efficient large-loss restoration equipment. No matter how severe your damage, we'll clean and restore your property to its pre-damaged condition.
Why Dalworth For Large-loss Restoration in Allen?
Dalworth Restoration is the best restoration company in Collin, Denton, Dallas and Tarrant county, we perform reliable, superior large-loss restoration for your residential or commercial property damage. We'll restore your home or business to its pre-damaged condition with best results and complete customer satisfaction. Choose our large-loss restoration equipment, and you also choose:
24/7 emergency response
Free estimates
Insurance claim and billing assistance
Bonded and insured restoration provider
Trust Dalworth Restoration For Large-loss Restoration Equipment in Southlake
With decades of restoration experience, Dalworth Restoration is your most reliable large-loss restoration solution. For minor or large-scale damage restoration, trust Dalworth to put you on the road to recovery. We assist customers with water damage, fire damage, disinfecting, and more. To learn more about our large-loss restoration equipment services, call us today at 817-203-2944 or contact us online to arrange a consultation.