Roof Leaks and Structural Damage in Dallas and Fort Worth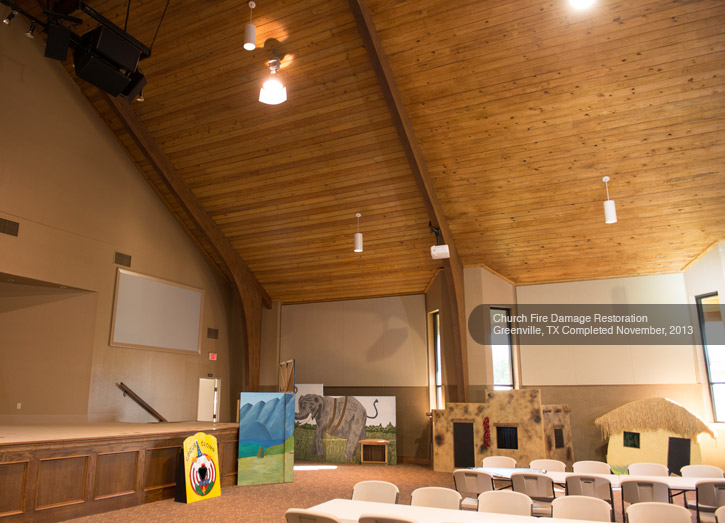 The expert water damage specialists at Dalworth Restoraion know roofing materials are vulnerable to water damage. Property owners must be vigilant about signs of water damge that threaten the structural integrity of your home or business. The water damage from the leaky roof of a residential or commerical property can cause damage to the roof and supporting infrastructure, as well as the property's framework.
Signs of Water Damage
Dalworth Restoration recommends that you look for signs of water damage as it may begin with a leaky roof, but water leaks can quickly translate to other property damage.
Attic - If not detetected early, roof water leaks can cause structural damage and rot attic rafters that support the load of the roof, compromising structural stability.
Insulation - Wet insulation in attics and behind walls causes rusting of steel screws,
Ceilings - Ceilings may show obvious signs of water damage with dark spots or leaky areas.
Joists and Studs - These support ceilings and walls in the home are made of wood and rot in the presence of constant moisture
Drywall - Interior walls and ceilings are made with drywall and when exposed to water, they swell, discolor and mold.
Floors - Water from leaks can accumulate under carpet and damge carpeting and the floors underneath.
Structural Water Damage
At the first signs of water leaks or waer damage, contact Dalworth Restoration. Our IICRC Clean Trust Certified Technicians will perform a water damage inspection of your home or business in our Dallas-Fort Worth service area for signs of these types of water damage:
Roof Leaks & Property Water Damage
Water damage from the roof to the foundation of any structure results in gradual shifting of the structure's support and in visible cracks that can cause structual deterioration of the internal infrastructure over time.
Compromised Energy Efficiency - Proper insulation conserves energy. Leaky roofs cause wet insulation and make it ineffective as an energy saving resource. Insulation keeps the home warm in winter and cool in summer. However, cooling and heating costs will be significantly higher in a home with wet and inefficient insulation.
Contents Water Damage - Water intrusion into the home damages contents as well structure. Furniture and other household possessions do get ravaged by moisture and tend to lose their value and functionality with constant exposure. Rusting, rotting and discoloration of content are common results of water damage, as is mold.
Mold Damage - Mold follows water damage within 24-48 hours of exposure, as it is opportunistic in nature. The spores need food and moisture to grow and can feed on numerous materials present in the home. In the process, they break down and destroy whatever they grow on. Mold, following water damage, is responsible for structural damage and poor air quality with increased allergend. Exposure to mold may cause severe allergic reactions and respiratory distress in susceptible individuals.
Roof Inspection
Dalworth Restoration's professional technicians will perform a free inspection to check for water damage. Our technicians will check for loose or broken shingles and check flashing to see if it is properly sealed. We recommend that you always inspect your roof after severe rain storms and hail storms to make sure it has not sustained damage.
A professional roof inspection is always best since some roof leaks and water damage are not visible. Call us today at 817-203-2944. Dalworth Restoration's technicians are certified in water damage restoration and use the latest techniques and equipment, including thermal imaging technology, to detect water leaks, water damage, condensation and mold that should be dried, repaired and restored. Contact us today for a FREE water damage restoration inspection and FREE estimate.
Professional Customer Service
24/7 Emergency Response
On Site in About an Hour
Free Inspection
State-Of-The-Art Cleanup and Drying Equipment
Contact us now. We will handle your water damage clean up and repairs promptly and professionally to your satisfaction and peace of mind.