Recognizing the Signs of Water Damage in Dallas and Fort Worth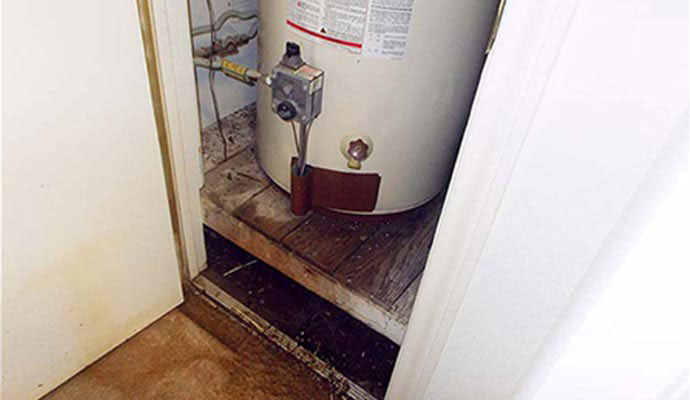 Check for Property Water Damage
Recognizing signs of water leaks and water damage in your residential or commercial property will reduce water damage and the cost associated with property cleanup, repair, and rebuild. Contact Dalworth Restoration today for a Free Inspection to prevent costly water damage repairs. Check out all of our water damage warning signs below to protect your North Texas residential or commercial property.
Why Choose Dalworth Restoration
While some water damage can be prevented with regular property maintenance, flooding and natural disasters require water cleanup, repair and restoration from a professional water damage restoration company. Call us at 817-203-2944 for water, flood and storm damage cleanup. Our IICRC Certified Restoration Crews are available 24/7 for emergency water damage service.

Member of the Better Business Bureau (BBB)
Clean Trust Certified Technicians
Nearly 40 Years in Water Damage Mitigation
Licensed and Insured in the State of Texas
State-Of-The-Art Drying Equipment
Infrared Testing to Locate Non-Visible Damage
ANSI/IICRC S500-Standard Water Damage Restoration
Water Damage Restoration Process
Dalworth Restoration offers these complete water damage restoration services as part of our water damage restoration process to clean up and remove water immediately to prevent secondary mold damage and structural damage.
We'll provide you with a FREE inspection, determine the best water cleanup method, and provide you with a free service estimate. Plus, we work directly with your insurance company to bill for our services. Contact us today to dispatch our water damage restoration team to your property in our Dallas-Fort Worth service area.
Water Damage Warning Signs
Recognizing these water damage warning signs is a crucial first step in preventing costly structural property water damage and mold damage repairs.
Water Damage and Wet Carpet - If you notice wet spots on your carpet, there may be water damage from a broken pipe, a spill or a pet accident. Wet carpets and rugs can often be restored, but time is critical and quick action is needed to avoid permanent carpet and rug damage. Floor damage and mold growth may occur if water is not professionally extracted from carpets and rugs in a timely manner. Contact us for our carpet water damage repair services.
Water Damage and Wood Floors - Wood flooring is very sensitive to spills and drips as it absorbs water and tends to swell and warp. If you notice any distortions in your wood floor, water damage may be the culprit.
Kitchen - Kitchens are high-risk locations for water damage disasters because dishwashers, refrigerators and sinks can overflow, leak or malfunction. Check appliances routinely for any puddles or drips. Contact us for our Drain & Sink Overflow Cleanup services.
Appliances Overflow - If water spills, drips or other accidents occur from a malfunctioning appliance, water damage repair can be quick and fairly inexpensive, if attended to before serious water damage occurs to surrounding areas. Contact us for our appliance leak cleanup services.
Bathroom - Water damage in the bathroom can give rise to multiple water damage scenarios because they are widely used rooms in the house and are susceptible to daily water drips and spills from the toilet, bathtub, shower, and sink. Check plumbing systems regularly for potential water problems before they become a emergency water damage restoration repair. Contact us for our Toilet Overflow Cleanup and Shower & Tub Overflow Cleanup services.
Water Damage and Frozen, Broken Pipes - When winter temperatures warm up and water melts in frozen pipes, check for leaks resulting from broken and cracked pipes. Frozen, broken or leaking pipes need to be replaced or fixed right away, before further water damage occurs. Contact us for our Burst & Frozen Pipe Overflow Repair services.
Water Heater Burst - A leaking water heater with water leaking at the top of the tank generally means the tank has a fitting or a plumbing part that has malfunctioned. If so, the water heater can most often be repaired and the water heater overflow cleaned up by our expert technicians. If your water heater has flooded an area of your home, water heater overflow cleanup is needed and water damage repair may also be needed.
Water Damage Stains - Stains on walls, ceiling, wood floors, carpets, doors, and windows indicate water damage and leaks. Some leaks may require a property inspection by one of our professional technician's to determine the source of water damage. Along with stains, water damage is indicated by warped, swollen and damaged and defective structures and building materials. Contact us for complete structural restoration services.
Water Damage and Mold - Water damage can lead to musty odors and mold growth, which can cause serious mold damage. Once the mold remediation and mold removal process is completed by the certified mold removal specialists at Dalworth Restoration, your home or business will be safe.
Water Damage Restoration and Repair - Water damage restoration companies come to homeowners' rescue once water damages get out of control and require professional crews to remove the water, dry the affected area, cleanup the debris and repair and restore the structure to its pre-loss condition.
Contact Dalworth Restoration for water damage and fire damage services in North Texas. We serve Dallas, Fort Worth, Arlington and cities in the surrounding area. Our restoration specilaists are standing by to take your call at 817-203-2944.