DFW's Trusted Leader in Restoration and Clean-Up, Since 1976
24/7 Emergency Services
Water Damage Cleanup Case Study in Dallas, TX
Customer: A. Estrada
Event: Water Damage Cleanup
Services Provided: Emergency Service, Water Extraction, Structure Drying
A water damage restoration project was successfully completed in Dallas, TX last week by Dalworth Restoration. Disaster Kleenup International called Dalworth for an emergency service needed at a home in Dallas, TX.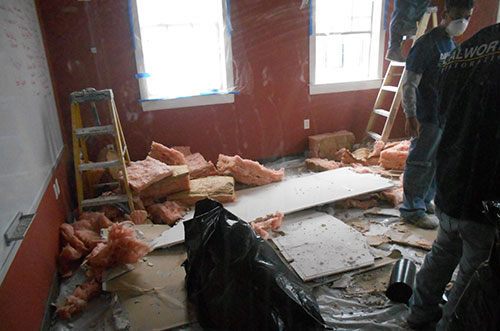 Dalworth contacted the homeowner within minutes and learned that 2 pipes in the attic busted. When Dalworth technicians arrived at the scene and inspected the severity of the situation, they discovered that the ceiling had caved in due to the extreme amount of water trapped in the attic. In addition, the living room, bathroom, kitchen and 2 bedrooms had been affected from the flood. Unfortunately, due to the amount of water, all carpet, pad, and insulation were unsalvagable and had to be removed. After demo'ing ceiling and walls, Dalworth was successfully able to dry the remaining home with fans and dehumidifiers. 
Many of the homeowners contents and items were affected as well, which resulted in Dalworth's content department providing a pack-out service. This includes all affected items packed and taken to Dalworth's facility for proper drying. Once the home is complete, the contents will be returned to the home, unpacked, and put back in its original condition. This was done within 1 day of the loss. 
Every part of the process from the initial phone call was all done in a quick and timely manner. The homeowner couldn't have been happier with Dalworth Restoration from start to finish. Because of how delighted they were, they elected their Construction divison to provide all the needed repairs resulting from the mitigation. This included replacing carpet, pad, sheetrock, baseboards, painting and new texture. 
We are here for you, whatever your needs may be. Contact us today at 817-203-2944 for your onsite estimate.