Appliance Water Leak Cleanup in Dallas and Fort Worth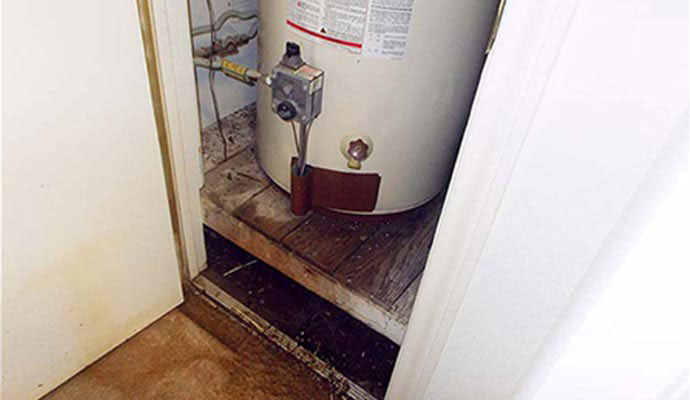 Appliances that hold water should be inspected regularly to see if they require repair or replacement. If left unchecked, what might start as a slow leak or drip could eventually lead to appliance flooding and water damage as well as hidden mold damage.
We offer appliance leak cleanup and water extraction, structural drying, and water damage restoration services for:
Water Heater Burst
A/C Unit Drain Overflow
At the first sign of appliance leaks, flooding or failure, contact Dalworth Restoration. We will dispatch a service technician to your location in our Dallas-Fort Worth service area. To stop leaks and water damage before they occur, we recommend these appliance leak prevention tips.
Why Choose Dalworth Restoration
Available 24/7 Everyday
On Site In About An Hour
Plumbing Overflow Cleanup Services
Dalworth Restoration repairs and cleans up water damage from leaky pipes, burst pipes & frozen pipes, and cleans up water damage from drain, sink, toilet & water heater overflows.
Our plumbing overflow cleanup services include:
Shower & Tub Overflow Cleanup
Our expert water clean up technicians are certified through the Institute of Inspection, Cleaning and Restoration Certification (IICRC). Call us today at 817-203-2944 for residential and commercial plumbing and appliance water overflow cleanup services in our Dallas-Fort Worth service area.
24/7 Fire, Water and Storm Damage Restoration
Contact Dalworth Restoration for fire, water and storm damage restoration services in Dallas, Fort Worth, Addison, Balch Springs, Carrollton, Grand Prairie, Irving, Lancaster, or any other city in our North Texas service area.