DFW's Trusted Leader in Restoration and Clean-Up, Since 1976
24/7 Emergency Services
Over 68,150+
Successful Restoration
Projects Complete
24/7 Emergency Services
Free Estimates
Work Directly with All Insurance Companies
Bounded & Insured
Water Damage Restoration Services in Colleyville, TX
If your home or business suffers water damage and your in Collevyille, contact Dalworth Restoration. We offer immediate service 24/7 for water and fire damage. We offer emergency water extraction and structural drying as well as demolition and furniture moving if needed. Dalworth Restoration offers water damage restoration, fire damage restoration, mold remediation, contents cleaning and other related services in Colleyville, TX. We are a turnkey full service restoration and construction company licensed to work in Colleyville and surrounding areas.
Our hard working restoration crews will make certain that all the building codes and standards are adhered to as we rebuild your residence or place of business in Colleyville. Another service we provide for your convenience is insurance billing, we will bill your insurance company direct and work directly with them to make sure you are satisfied with the work performed. Dalworth Restoration will make sure all the required insurance billing codes are correct when we file the paperwork for your restoration emergency.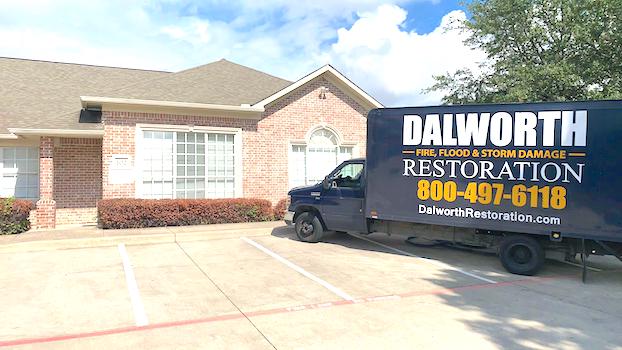 Immediate Response 
24 Hr Water Damage Cleanup
IICRC Certified Technicians
Emergency Drying
Direct Insurance Billing
100% Customer Satisfaction Guaranteed
Dalworth Restoration is a family owned and operated restoration company servicing the greater Dallas-Fort Worth area since 1976. We offer free estimates in Collevyille for water damage, so, if you have a disaster in your home or business, call us NOW!!! 
For 24/7 emergency service in Colleyville, call us at 817-203-2944.