DFW's Trusted Leader in Restoration and Clean-Up, Since 1976
24/7 Emergency Services
Over 68,150+
Successful Restoration
Projects Complete
24/7 Emergency Services
Free Estimates
Work Directly with All Insurance Companies
Bounded & Insured
Water & Fire Damage Restoration Services in Double Oak
Property damage that has been caused by fire or water can be equally hazardous to your well-being. These types of damage usually cause a lot of financial damage to your personal assets. If you take action before it is too late, there is always a chance that you will be able to prevent that loss with the help of the experts.
For more than 40 years, Dalworth Restoration has been answering every kind of restoration emergency in water & fire damage restoration services in Double Oak and other places across Dallas & Fort Worth, Texas. Our professionals are equipped with all the necessary knowledge that your situation calls for. They are also trained enough to provide the right consultation that you need in those moments of crisis.
Our services are available 24/7 and 365 days a year in Double Oak, Texas. Just call us anytime at 817-203-2944 or contact us online for the best restoration services.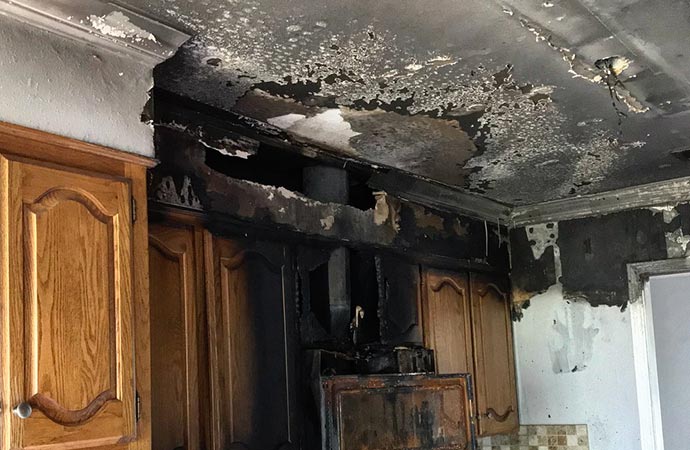 Fire Damage Restoration Services That We Provide Double Oak
Our fire damage restoration methods are compact and restore as much of your damaged property as possible. Some of our services are:
Smoke and Soot Damage: Smoke and soot are the most common fire damage incidents that we have to regularly deal with. Soots are usually restorable but can become permanent if the restoration process is not sufficient enough.
Smoke Odor Removal: Smoke odors can be persistent but our expert technicians know how to reach every corner and make your property as odor-free as it ever was.
Fire Damaged Floor: Fire burns your wooden floor and sometimes it can never be restored again. But if it is a stain or even a little bit more serious, we can help you restore them very efficiently.
Call Us in Any Restoration Emergency in Double Oak
The dedicated restoration experts of Dalworth Restoration are always ready to answer the call of any restoration-related emergency in Double Oak, Texas. Our certified technicians are equipped with enough knowledge to provide your property with the best restoration service.
Just call us at 817-203-2944 or contact us online to have an in-depth consultation with our experts!