DFW's Trusted Leader in Restoration and Clean-Up, Since 1976
24/7 Emergency Services
Over 68,150+
Successful Restoration
Projects Complete
24/7 Emergency Services
Free Estimates
Work Directly with All Insurance Companies
Bonded & Insured
How Fast Does Mold Grow?
Any amount of moisture in your house can lead to mold growth. At optimal temperature and level of humidity, it takes only 24 to 48 hours for these fungi to germinate and grow and even less time to spread. So, the only way to prevent mold from infesting your home following an incident with water damage is to dry the premises within the first 48 hours after the water intrusion.
Dalworth Restoration offers mold removal and mold remediation services in Fort Worth, Dallas, Plano, Arlington, and other greater Dallas/Fort Worth areas. We are a licensed mold remediation company by the state of Texas and can provide you with free estimates for mold clean up services after an environment company sets a mold assessment and protocol.
So call us today at 817-203-2944 and let us handle your mold clean up repairs!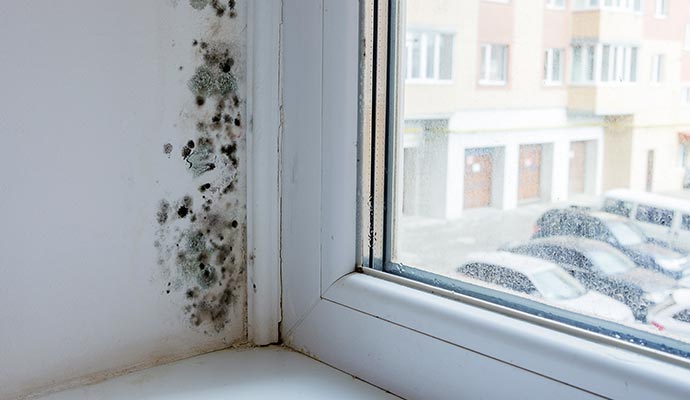 Mold in DFW Homes From Water Damage
Water intrusions into the house such as flooding, burst pipe or leaky roof compromise the integrity of the building, destroys electronics and appliances and ruins furniture, carpeting, clothing, and other household items.
On top of that, it creates welcome conditions for mold growth. This increases the damage and makes the restoration process longer, harder, and costlier.
How Mold Grows & Spreads Inside The House
Mold spores exist everywhere in the environment and mold starts developing when they get organic "food" and moisture. There are plenty of porous organic materials in our house such as drywall, insulation, paint, paper products, etc. When they come in contact with them and a few inches of water or even just high humidity they start to grow, germinate, and spread.
It takes only a few hours for the molds to spread, 24 to 48 hours to grow and germinate,3 to 12 days to colonize and about 18 to 21 days to become visible.
How Mold Growth Can Be Stopped in Your DFW Home
You can prevent mold from growing by keeping your home dry or removing moisture before mold has the chance to grow.
However, proper drying can be quite difficult as water can find its way into all kinds of materials and spread into walls, under floors, and through ceilings on its route to the lowest point in the house and might not even be visible until it's too late.
That is why the best way to prevent mold from infesting your home following an incident with water damage is to dry the premises by experienced professionals within the first 48 hours of water intrusion.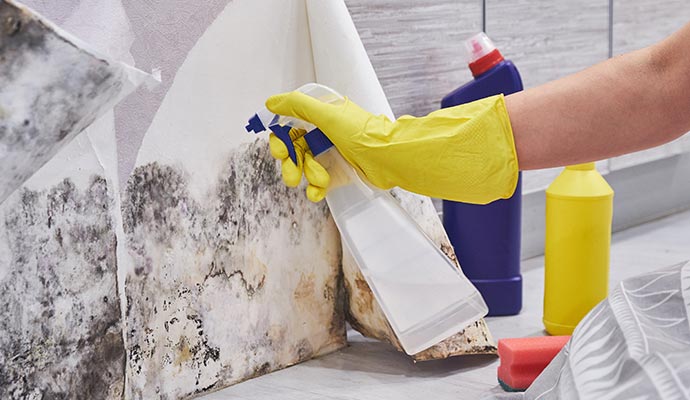 Professional Water Damage Cleanup and Mold Removal in Dallas-Fort Worth, Texas
Dalworth Restoration is a fully licensed General Contractor in Texas has been providing mold remediation and clean-up services in North Texas and the DFW Metroplex for over 40 years. We provide a complete range of services to remove, cleanup, and repair mold and water damage to your home or office.
Upon arrival, our IICRC Certified technicians will use our methodical and well-planned mold abatement and remediation process to clean up mold and repair from your property to your satisfaction.
We work within the mold assessment and protocol set by the environmental company and follow all the steps guided by state laws during the whole mold remediation process.
To provide our customers with next-level cleaning solutions we have partnered with industry-leading products and equipment manufacturers such as SteraMist™.
We also work with most insurance companies and thus understand the insurance industry rules and regulations very well. And will assist you with mold damage insurance claims to the completion of the restoration job. The work we do is generally covered in your insurance policy.
Our crews are available 24/7 to dispatch to your property and our experts are standing by to take your call at any time you might need.
We also provide other restoration services such as water damage, storm and flood damage, etc.
So if you are having a mold problem in your property and looking for experienced professionals to give you the best solution then call us today at 817-203-2944 or contact online and we will be happy to help you any time.