DFW's Trusted Leader in Restoration and Clean-Up, Since 1976
24/7 Emergency Services
Over 68,150+
Successful Restoration
Projects Complete
24/7 Emergency Services
Free Estimates
Work Directly with All Insurance Companies
Bonded & Insured
Duct Inspection Service in Dallas & Fort Worth, TX
The duct system is a nice way to manage contamination-free air in your home. But, have you ever thought of the possible troubles in return for comfort and confidence? The mechanism itself can be infected or damaged and serve adversely. If your duct is unchecked after a long time, that will be quite a strange matter. And, undoubtedly, after any event like infrastructural damage or fire damage, duct inspection is a must.
Push yourself before your home's duct system turns out to be a disaster and makes you regret it. Dalworth Restoration is always prepared for the inspection at your convenience. If you are living near Dallas, Alvarado, Garland, Fort Worth, and our other service areas, we are ready to begin the task from here.
Call 817-203-2944 any time as we are 24/7 available to respond your any emergency help request. Click here to reach us online.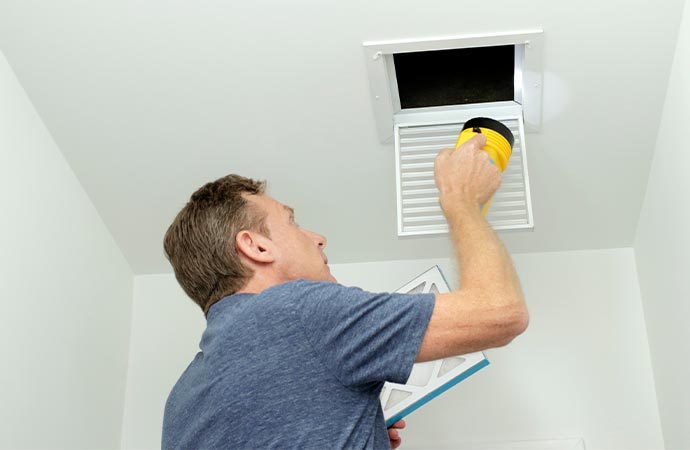 When Choose Us?
Normally, a duct inspection is recommended five years after the purchase. Then, the checking should be done each year. Our IICRC-certified technicians are well-prepared to do the job with thermal instruments and other latest tools and technologies.
With over 4 decades of professional experience since 1976, we are well-versed in your problems and probable consequences. We always encourage you to be quick in informing us about your situation. Don't let the upsetting bad odor form in the duct or extract from any fire-damaged areas connected to the duct system making the whole atmosphere unendurable.
We have more apt services to restore your home's innate mood when there is a crisis moment. Check out our services for Mold damage from leaks, Fire damage, Commercial disaster, etc.
Contact Dalworth Restoration Today to Know Your Duct's Status Right Away
Dial 817-203-2944 and take another further step to secure both your home and duct system. For online service requests, click here.