DFW's Trusted Leader in Restoration and Clean-Up, Since 1976
24/7 Emergency Services
Over 68,150+
Successful Restoration
Projects Complete
24/7 Emergency Services
Free Estimates
Work Directly with All Insurance Companies
Bonded & Insured
Air Duct Inspections in Dallas-Fort Worth
Air duct systems that are clean and in good working condition keep your indoor air allergen or contaminant-free. But older duct and ventilation systems that have accumulated years of dirt and dust, or recent smoke damage after a fire, can use a closer look.
Dalworth Restoration performs thorough, reliable air duct inspections for routine maintenance, or after residential and commercial fires across Dallas-Fort Worth. If your indoor air quality seems degraded, or musty odors are coming from vents, an air duct inspection is probably necessary. Smoke damage and odors in air ducts are easily noticeable, and Dalworth Restoration performs superior duct system smoke removal and duct vent cleaning.
We assist customers in Dallas, Alvarado, Garland, Fort Worth, and throughout the Dallas-Fort Worth and North Texas region. Call us today at 817-203-2944 or contact us online to arrange a consultation with a Dalworth Restoration representative.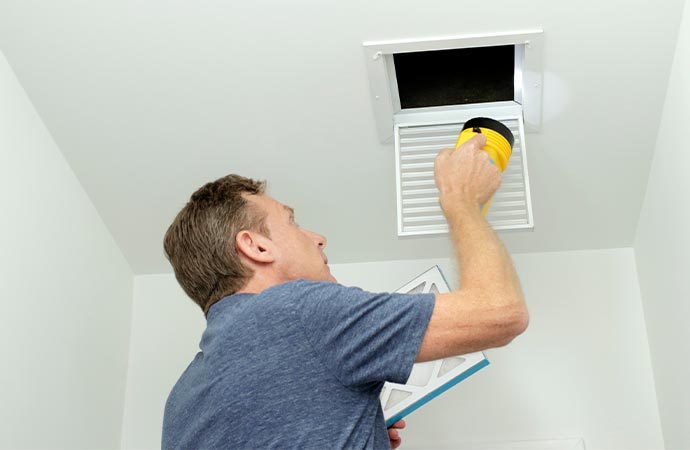 Why Dalworth For Air Duct Inspections?
Duct inspections are recommended five years after a new home purchase. Then, checks should be each year. Our IICRC-certified technicians are experienced with the latest thermal instruments and other tools or technology.
Since 1976, Dalworth Restoration has diagnosed indoor air and duct system issues, and provided solutions. We clean duct systems, eliminate odors, and remove smoke damage, and restore fresh, clean indoor environments. We also assist customers with mold damage after water leaks, fire damage restoration, commercial disaster restoration, and more.
Trust Dalworth Restoration For Reliable Air Duct Inspections in Arlington
Our 24/7 emergency response restoration is ready to assist in your fire or water damage recovery. Contact us now to begin the process, including for air duct inspections. We'll assess and clean your ducts, improve your indoor air, and assist with your insurance claims, billing and cleanup. Call Dalworth Restoration today at 817-203-2944 or contact us online to book an appointment with one of our team members.