DFW's Trusted Leader in Restoration and Clean-Up, Since 1976
24/7 Emergency Services
Over 68,150+
Successful Restoration
Projects Complete
24/7 Emergency Services
Free Estimates
Work Directly with All Insurance Companies
Bonded & Insured
Restore Toxic Odors & Volatile Emissions from Fire in DFW
During a fire in a home or business, the combustion releases lots of toxic fumes as different materials burn & fuse together. It is important that you evacuate all members immediately to avoid physical harm. Oftentimes, these dangerous gases linger around for a long time even after the fire has subsided. To remove those toxic odors & volatile emissions from your property, count on Dalworth Restoration.
We are a licensed & certified restoration company, serving Dallas-Fort Worth with the best fire damage restoration services since 1976. We have the experience to restore any kind of fire-damaged property. Whether you own a commercial or residential property, our IICRC-certified specialists can restore it to its pre-damaged condition. Give us a call at 817-203-2944 to recover quickly from the damages, and remove the harmful odor & emissions.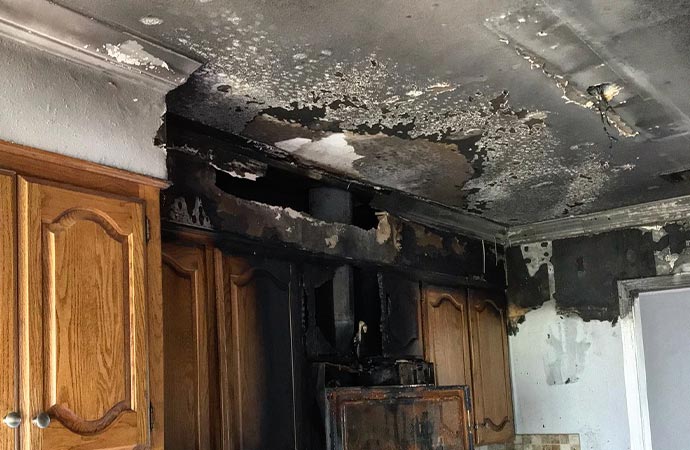 Restoring Fire-Damaged Properties since 1976
Materials such as plastic, electronic appliances, wood, and others are commonly found in homes as well as businesses. When these materials burn, they release toxic gases that remain in the surroundings. Entering such buildings without proper precaution may prove fatal. It is best to rely on professionals from Dalworth Restoration who take appropriate protection with them while handling such situations.
We can eliminate the toxic fumes & smoke odors produced during the fire. Let us make your property safe again & restore it to its pre-loss condition. Fire damage restoration services we provide include:
Let Dalworth Restoration Protect Property from Volatile Compounds
Toxic odors, & harmful emissions during a fire may cause diverse health effects like asthma complications, bronchitis, coronary heart disease, cancer, and more. Count on the certified professionals from Dalworth Restoration during such situations to recover quickly and effectively. We are available 24/7 in Lancaster, Grandview, Arlington, Plano, & other surrounding areas within Dallas-Fort Worth Metroplex. Call us TODAY at 817-203-2944 for immediate help regarding fire damages.