DFW's Trusted Leader in Restoration and Clean-Up, Since 1976
24/7 Emergency Services
Mold Remediation and Mold Removal in North Texas
Dalworth Restoration offers mold removal and mold remediation services in the greater Dallas/Fort Worth area and is licensed by the State of Texas for Mold Remediation. We can provide you an estimate for mold clean up services after a mold assessment and protocol have been set by an environmental company. A protocol is an outline of how the remediation needs to be handeled, if we do not have one we would be unable to provide an estimate for remediation.
Mold Remediation Services
Dalworth provides a complete range of services to remove, cleanup and repair mold and water damage to your home or office. Upon arrival, our certified specialists will work within the mold assessment and protocol set by the environmental company.
Mold Cleanup Process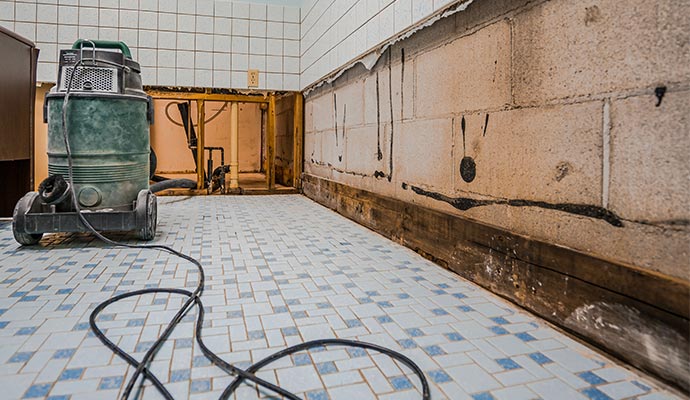 Dalworth Restoration's mold removal technicians follow our methodical and well-planned mold abatement and remediation process to clean up mold and repair your property to your satisfaction. We are licensed by the State of Texas and follow these steps to properly cleanup and remove mold according to state laws.
Examine Mold Damage - We use advanced moisture-meter equipment to measure moisture in your floors, walls, ceilings, and cabinets. We then use infrared cameras to identify the origin and the extent of the damage.
Extract, Remove, and Dry Water Immediately - Our mold removal professionals use commercial-grade dehumidifiers and water removal and extraction equipment to dry out your floors, carpets, cabinets, and walls to contain damage and abate mold spread and growth.
Secure Affected Area - To prevent mold spores from spreading, the contaminated area is sealed off using plastic sheeting. We then create negative air pressure to direct the mold away from indoor space.
Dispose of Affected Components and Materials - Some materials will need to be disposed of, such as: ceiling tiles; insulation; wall boards; carpet; soft furnishings; clothes; papers; and books. Non-porous metals, glass and hard plastics may be cleaned and reused. Depending on the degree of mold damage, semi porous wood may be cleaned up by drying, sanding, and treating with an environmentally safe anti-microbial solvent before reusing.
Heating, Ventilation and Air Condition System Treatment - Your heating, ventilation, air conditioning, and crawl spaces will be dried, cleaned, and then treated with HEPA filtration to remove remaining mold particles.
Whole House Mold Disinfection - To disinfect your home from mold spores, we use negative ions (electrically-charged particles) to remove airborne contaminates.
Mold Damage Repair and Restoration- Dalworth Restoration has full-time professional mold damage repair and restoration crews available to rebuild, repair, and restore your Dallas-Fort Worth home from mold damage.
Dalworth Restoration is Licensed by the State of Texas for Mold Remediation
Our restoration teams have training and expertise in mold remediation. We have been in the mold abatement and remediation business for nearly 40 years and are licensed by the state of Texas to perform mold removal and remediation. Our licensed mold removal technicians will alleviate your concerns with practical mold abatement information and answer your mold clean-up questions and put your mind at ease. Texas licensing requirements protect consumers by preventing the same company from performing a mold inspection and mold remediation on the same property. This is to prevent unscrupulous companies from falsely or inaccurately reporting mold findings in order to justify unnecessary remediation work.
Frequently Asked Questions
It is important to avoid direct contact with mold if you suspect it in your home or office. Mold spores can become airborne, potentially spreading the contamination. For a thorough assessment and remediation, it is advisable to call Dalworth Restorations, a professional mold remediation firm.
Dalworth Restorations is a certified company that has the right equipment and techniques to remove mold safely and effectively from your property. To ensure thorough and complete remediation, our team follows industry-standard procedures. We use safe, effective products to prevent future mold growth.