DFW's Trusted Leader in Restoration and Clean-Up, Since 1976
24/7 Emergency Services
Over 68,150+
Successful Restoration
Projects Complete
24/7 Emergency Services
Free Estimates
Work Directly with All Insurance Companies
Bonded & Insured
Flood Damage Restoration in Dallas, Fort Worth, TX
It's okay to panic when flood damage occurs as the situation can be overwhelming. But, taking timely action against the chaos can get you out of several troubles and sufferings. After stopping the water discharge source (e.g. turning off the water supply) calling a flood restoration expert is one of the main tasks you have to do. Dalworth Restoration, being the best restoration company in DFW, has the equipment to handle restoration jobs of any size.
If you are living in any of the cities in Arlington, Irving, Garland, Cedar Hill, or any other service areas, Dalworth Restoration's 24/7 services are available for you. With more than 4 decades of professional experience, our IICRC-certified technicians are well-trained to take care of different water damage problems in your home including water pipe breaks, appliance leak cleanup, structural restoration, plumbing overflow cleanup, floor water damage, etc.
Just dial 817-203-2944 and set an appointment with us for flood restoration service. To contact us online click here.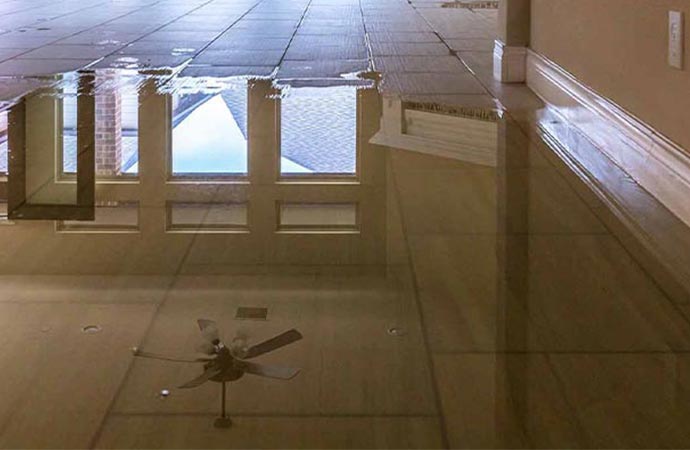 Results of Untreated Flood Damage
While flood damage itself is already a nuisance, the aftermath can be quite bothersome as well. Apart from dampness, the spreading of water can cause damage to different parts of the building structures such as walls, floors, and ceilings. The home appliances are at risk as well. Moisture is ideal for the growth and spreading of microorganisms like mold. So, it won't be a surprise to notice disturbing black spots on different parts along with degraded indoor air quality.
Therefore, flood damage restoration is inevitable for the safety of the property and the residents.
Contact Us for Flood Damage Restoration of Your DFW Home
The family-owned business company Dalworth Restoration promises quality restoration services both for residential and commercial premises. So, stop worrying and call us at 817-203-2944 or click here to reach us online if you are facing flood damage in your home. Check out our other major services such as fire damage restoration, disaster restoration, etc.