DFW's Trusted Leader in Restoration and Clean-Up, Since 1976
24/7 Emergency Services
Over 68,150+
Successful Restoration
Projects Complete
24/7 Emergency Services
Free Estimates
Work Directly with All Insurance Companies
Bonded & Insured
Crime Scene Cleanup Services in Dallas-Fort Worth
When tragedy strikes, dealing with the aftermath of a crime scene can be an overwhelming and distressing experience. Moreover, crime scenes often contain biohazardous materials, such as blood, bodily fluids, and other potentially harmful substances. At the same time, it's important to strictly keep privacy in such a delicate situation. Dalworth Restoration understands the importance of swift and discreet cleanup services to restore peace and ensure a safe environment.
Our crime scene cleanup service is led by highly trained professionals who possess extensive knowledge of how to handle biohazardous material, sanitation protocols, and state regulations. The team is equipped with all the necessary certifications to handle a wide range of crime scenes, including homicide, suicide, assault, and unattended death. So, if you're in Dallas-Fort Worth, give us a call at 817-203-2944 or you can also reach us online. We are available 24/7.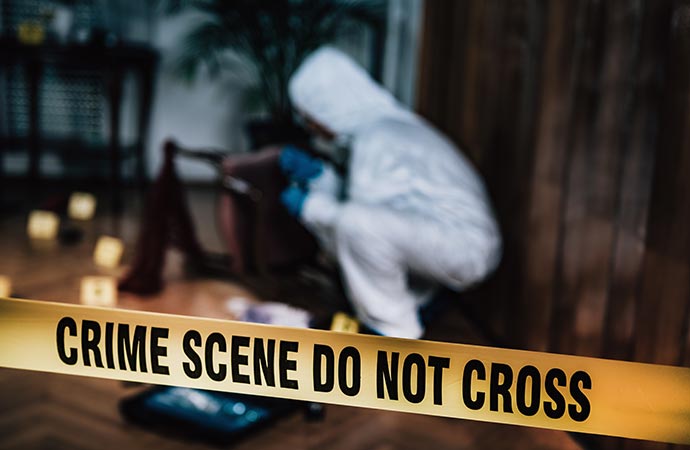 Why Professional Crime Scene Cleanup Service is Necessary?
Professional crime scene cleanup service plays a crucial role in ensuring the safety, health, and well-being of individuals affected by a crime. By relying on the cleanup service of Dalworth Restoration, you can focus on healing and moving forward in your life while knowing that the situation is being handled with the utmost care.
Our cleanup experts are well-trained in handling and disposing of biohazardous substances. We also use specialized equipment, personal protective gear, and effective cleaning solutions to eliminate the risk of infections and diseases. We stand beside the affected individuals, respecting their privacy and working discreetly to minimize any further emotional distress. With our comprehensive approach, you can rest assured that the property is fully restored and ready to use.
Get The Best Cleanup for Any Crime Scene from Dalworth Restoration
If you or someone you know has been affected by a crime, it's important to prioritize safety, health, and emotional well-being. Dalworth Restoration is here to support you through this challenging time with our comprehensive 24/7 crime scene cleanup services. We provide a wide range of cleanup & restoration services such as trauma cleanup, disinfecting services, cleaning services, disaster restoration, etc. in Arlington, Bedford, Clinton, Denton, Florida, and nearby DFW regions. Call us today at 817-203-2944.