DFW's Trusted Leader in Restoration and Clean-Up, Since 1976
24/7 Emergency Services
Over 68,150+
Successful Restoration
Projects Complete
24/7 Emergency Services
Free Estimates
Work Directly with All Insurance Companies
Bonded & Insured
Fire Safety Tips for North Texas Residents
Check out these fire safety tips to keep you, your family, and your neighbors safe from fire and fire related hazards.
If a fire occurs on or near your property call 911 immediately. Call Dalworth Restoration at 817-203-2944 for 24/7 fire damage restoration and water damage restoration services to cleanup fire damage and water damage debris and restore your property to pre-loss condition.
Escape Planning and Fire Drills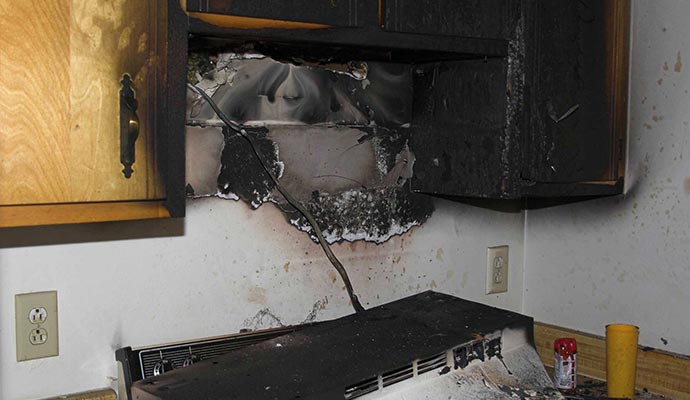 Fires leave as little as 2 minutes for you to escape from the burning structure once the fire alarm sounds. In the event of a fire emergency, you should have a fire escape plan in place that you and your family have practiced. Advanced planning and fire escape routes save lives. Talk to family members about fire safety and fire prevention, and conduct fire drills at least a couple of times a year.
The NFPA says, "Always choose the escape route that is safest – the one with the least amount of smoke and heat – but be prepared to escape under toxic smoke if necessary. When you do your fire drill, everyone in the family should practice getting low and going under the smoke to your exit." Also, you should remove items that are blocking windows and doors, like furniture.
Practice various scenarios of getting out of the house from doors and windows. 
Instruct family members to meet outside the house in a predetermined meeting place.
Teach family members that in case of an actual fire, everyone must get out and stay out of the house. Do not go back to retrieve cell phones, pets or other family members.
Call 911 from a cell phone or a neighbor's phone.
Children and Fire Safety
It is important for parents to teach fire safety to children. A child should never play with matches or lighters or any other flame source. Children should be monitored around stoves, ovens, fireplaces, burning candles, and portable heating units. Moreover, a three-foot safety area around hot kitchen appliances and fireplaces should be enforced. Parents and adults must stress the importance of fire prevention and fire safety in the home. Teach children about you fire escape plan, fire escape routes and practice fire drills a least twice a year.
Smoke Alarms
Smoke alarms prevent fire-related deaths, according to the National Fire Protection Association (NFPA). To keep your family and property safe, check your fire alarms once a month to make sure batteries are working, and check your smoke alarms annually to make sure they are working.
Housefold Fire Prevention Tips
Kitchen Cooking Mishaps-According to the NFPA, the most common reason for fire damages in the home is cooking mishaps, and 40% of all home fires are caused by cooking accidents. Kitchen fires are a significant cause of fire damage and fire injuries. Never throw water on a grease fire instead spray the fire with a fire extinguisher or cover pan with a lid.
Portable Heating Appliances Fires-As temperatures drop in the winter season, people often rely on additional sources of heat from space heaters. According to the federal Emergency Management Agency only 2% of residential heating fires are caused by portable heating units, but account for 25% of residential fire fatalities. Use combustible items at least three feet from heaters, ovens and fireplaces; do not place heaters on or near carpets or rugs but on a firm surfaces; never leave hem unattended.
Electrical Malfunction-Electrical fires cause Extensive property damage and fire fatalities. Faulty or old wiring; incorrectly installed wires; overloaded circuits; overused extension cords; defective appliance cords; or poorly maintained electrical systems all cause electrical fires. Check the wiring of electric heaters, stoves, ovens, microwaves and television sets and radios. Damaged wires should be replaced and circuits and extension cords must not be overloaded.
Cigarettes-Cigarette smoking is another leading cause of fires, injury and death. A cigarette that has not been extinguished properly can burn through an item of clothing or furniture and smolder for hours before bursting into flames. douse cigarette butts in water to make sure that they are out. This type of fire can also produce toxic chemical compounds that may contribute to an individual's unconscious state and incapacitate one to the point of not being able to flee the fire.
Open Flames-Open flame fires include fires caused by unattended fireplaces and burning candles. Inspect the fireplace to make sure it is in good condition and clear the hearth area of debris and combustible materials. Keep the flue open and don't obstruct the chimney. Install a metal mesh screen to prevent flying sparks. Don't leave burning candles unattended or near flammable objects. Place candle holders on a hard, heat-resistant surface.
Contact Dalworth Restoration
Once the fire department extinguishes the fire, call Dalworth Restoration at 817-203-2944 to restore your property to pre-loss conditions. Contact us now. We are a licensed, bonded and insured full-service fire damage repair company. Our post-fire damage restoration services and fire and water damage remediation crews are available 24/7 to repair, rebuild, and restore your residential or commercial property after any disaster.
Professional Customer Service
24/7 Emergency Response
On Site In About An Hour
State-Of-The-Art Water Removal & Drying Equipment
If you live in Dallas, Fort Worth, Arlington or any other city in the North Texas area, contact Dalworth Restoration for all of your fire cleanup and fire damage restoration, construction and remodeling needs. We are standing by to take your call at 817-203-2944