DFW's Trusted Leader in Restoration and Clean-Up, Since 1976
24/7 Emergency Services
Over 68,150+
Successful Restoration
Projects Complete
24/7 Emergency Services
Free Estimates
Work Directly with All Insurance Companies
Bonded & Insured
Certified Industrial Hygienists in Dallas-Fort Worth
Certified industrial hygienists analyze a workplace, perform tests, and determine if any hazards are causing employee illnesses, stresses, or other discomforts. Whether chemical, environmental, physical, biological, or some other adverse condition, a certified industrial hygienist formulates a plan to eliminate such hazards and help return any workplace to an overall healthy state.
At Dalworth Restoration, we contract with certified industrial hygienists to assess mold, asbestos or other toxic substances, poor indoor air quality, hazardous working conditions or exposures that require such evaluations. We'll identify contaminants and ensure businesses adhere to OSHA laws to make workplaces safer.
Dalworth Restoration will perform mold or asbestos remediation and cleanup, and certified industrial hygienists will ultimately determine if workplace conditions are acceptable after a post-inspection. To have a certified industrial hygienist inspect your property in Flower Mound, Lewisville, Frisco, Plano, or anywhere in Dallas-Fort Worth, contact us online or call 817-203-2944, and ask about our free estimates.
Why a Certified Industrial Hygienist By Dalworth Restoration in D/FW?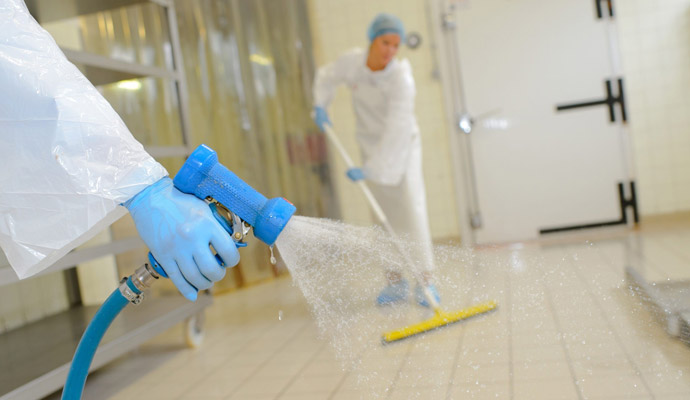 The importance of contracting a certified industrial hygienist to determine a workplace hazard can't be understated. An analysis by Dalworth Restoration could help you with the following:
Limit medical expenses: Industrial hygiene impacts insurance premium costs, injury claim volume, and employer healthcare options. Decreasing risks and improving working conditions with high standards benefits long-term.
Boost productivity: Cleanliness and safety improve physical and mental health. More energized, focused employees are more productive and content. Unsafe, unclean workplaces are distracting, anxiety-inducing, and cause weariness and tension.
Reduce absenteeism: Healthier employees=fewer lost days. Rehab, therapies & specialist visits, disability claims and other medical-related lost time will decrease.
Spend elsewhere: Money saved from workplace injuries and illnesses can strengthen and grow a business.
Professional reputation: Safety, cleanliness and other positive factors in a workplace environment attracts quality employees and job-seekers. Improve recruiting.
Trust Dalworth Restoration For Certified Industrial Hygienists in D/FW
Choosing Dalworth Restoration also means choosing:
DFW's trusted leader in restoration & cleanup since 1976
24/7 emergency services
Free estimates
Bonded & insured business
Direct assistance with all major insurance companies
IICRC-certified crews
Licensed mold remediation & removal specialists
Contact us online or call 817-203-2944 for a certified industrial hygienist analysis, as well as mold remediation services for your Dallas-Fort Worth workplace. We also provide mold remediation and mold testing. Arrange a consultation today.