DFW's Trusted Leader in Restoration and Clean-Up, Since 1976
24/7 Emergency Services
Over 68,150+
Successful Restoration
Projects Complete
24/7 Emergency Services
Free Estimates
Work Directly with All Insurance Companies
Bonded & Insured
About Dalworth Restoration in Dallas/Fort Worth Texas
Dalworth Restoration has been helping families and businesses recover from disasters for more than four decades. We attack fire, water, and storm damage at residential and commercial businesses as well as environmental quality hazards inside existing homes with a three pronged approach of Relieve, Repair, and Renew.
Our family owned business instills family values in our workforce so we are dedicated to relieve the stress of life changing incidents for our customers by delivering care and compassion.
Think of us as your personal Red Cross team.
The second prong of the Dalworth Restoration approach provides a turnkey repair process. We relieve our customers from the burden of working with an insurance company, inspectors, adjusters, and our construction team repairs all damage. You can work and focus on your family while we handle the complicated and often frustrating details of getting you back into your home or business as soon as possible.
Finally, Dalworth Restoration renews our customer's lives to their pre-loss condition. In residential settings, we also concentrate on saving your treasured family heirlooms, sentimental photographs, and memorabilia. For commercial businesses we focus on saving such things at vital business records or equipment.
Dalworth Restoration stands ready around the clock to dispatch our technicians and fleet clean-up and recovery equipment. Be sure to add our phone number to your list of emergency contacts.
Services:
Flooding and water damage restoration
Fire damage restoration and smoke deodorization
Contents salvage, restoration, and decontamination
Reconstruction and remodel
Industrial disaster recovery and cleanup
Industrial property reconstruction and re-purposing
Large loss and disaster minimization and recovery
Certifications:
Licensed mold remediation and removal specialists
Brand Promise
Our brand promise is to respond quickly and renew with integrity and compassion.
Purpose
Our purpose is to renew property, possessions and lifestyles with compassion.
Read Why Customers Prefer Dalworth Restoration
Neil Wilton says
Frisco, TX | Mar 11th, 2016

 
My water heater flooded our house on a Saturday. Dalworth was here in a little over an hour and immediately got to work. The guys were very quick and extremely professional. Dalworth continued to come out on a daily basis to make sure everything was drying out properly. Once everything was dry, they then replaced pads, and did a great job cleaned and replacing carpet. I am very happy with their work.
Matt B says
Roanoke, TX| Aug 29th, 2015

 
Julio and Luis were great! Very thorough in helping me re-assess the water damage. I thought initially it was just some drywall and a cabinet wall, but they discovered that the water went all the way into another room!
Catherine Singley says
Southlake, TX | May 6th, 2016

 
EXCELLENT! From the courtesy and helpfulness of the phone staff to the timeliness and professionalism of the technicians, I was so pleasantly surprised at the seamless ease of this large project. Dalworth, you're The Best!
Fire & Water Damage Restoration Services
As a family-owned and operated company for over 42 years, Dalworth Restoration has high moral ethics to do the job correctly each and every time. Our quality service is the outcome of honest, trained, certified professionals, who deliver excellent service to all of our customers. We care about our customers and do what it takes to help when a disaster hits. We share our customers' feelings and understand their needs at time of crisis and are here to help. Call us today at 817-203-2944 to speak with one of our service professionals.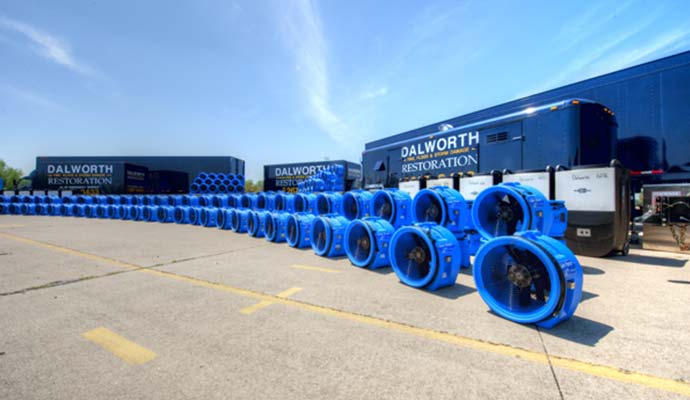 Commercial & Residential Restoration
At Dalworth Restoration, we are continually finding ways to enhance our services to provide value to our customers. We offer On-Site Estimates for our services which include a full range of restoration services, air sealing, insulation and energy services with 24/7 Emergency Services available for our customers.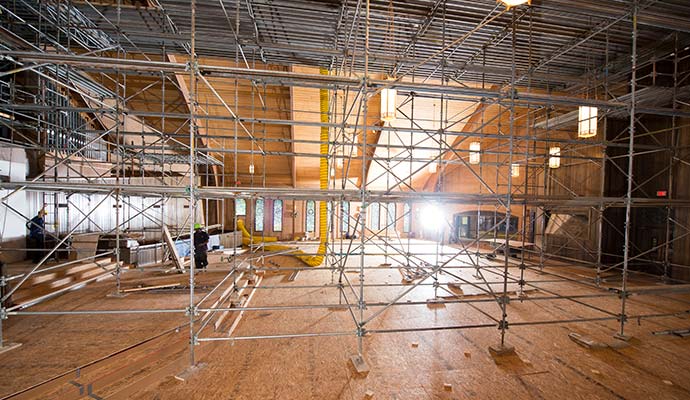 Restoration Process
Water Extraction and Structural Drying
Smoke and Soot Removal
Catastrophe Recovery and Reconstruction
Post-Construction Detail Clean-Up
We combine state-of-the-art equipment and techniques with a commitment to caring that are second to none. We do the job right the first time and stand behind every job we do from start to finish.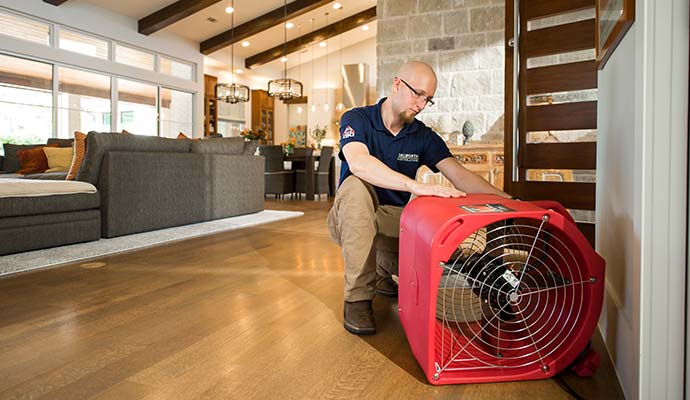 Immediate
24/7

Response

One call to Dalworth Restoration's 24/7 Emergency Hotline will dispatch one of our restoration specialists to you. Upon arrival, we will put together a plan to rescue and restore your property from fire, storm and/or water damage. We will then streamline the remaining restoration process to get your business or home back to normal as quickly as possible. Call us now at 817-203-2944 to speak to our Certified Restoration Specialists. We are standing by to take your call.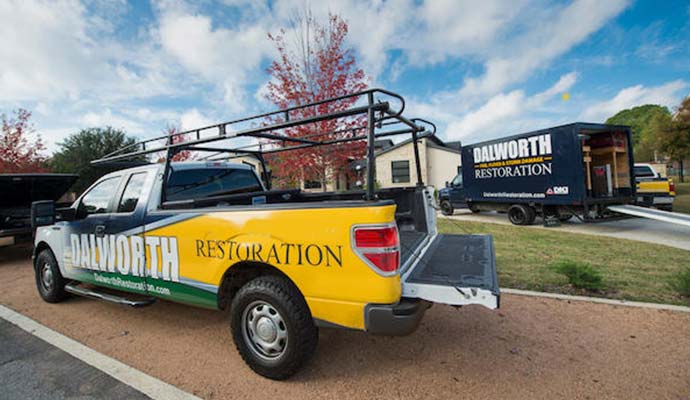 Dalworth Companies - The Dalworth Brand
Dalworth Restoration is proud to be part of Dalworth Companies and of our numerous awards for quality garnered over three generations. Dalworth Companies is headquartered in Euless, Texas and offers nearly 40 years of experience in the following services: