DFW's Trusted Leader in Restoration and Clean-Up, Since 1976
24/7 Emergency Services
Over 68,150+
Successful Restoration
Projects Complete
24/7 Emergency Services
Free Estimates
Work Directly with All Insurance Companies
Bonded & Insured
Mold Damage from Leak in DFW Buildings
As mold can grow in the minimum presence of moisture and spread even quicker (within 48hrs) a leak in any part of a home, office or any other buildings will make the condition even worse.  Thus getting mold remediation from expert professionals is crucial to saving your property structure and belongings from mold damage. 
Dalworth Restoration offers mold removal and mold remediation services in Little Elm, Lucas, Blue Ridge, Grand Prairie, Irving, Lancaster, and throughout the greater Dallas/Fort Worth area. We are licensed by the State of Texas for Mold Remediation. We can provide you an estimate for mold clean-up services after a mold assessment and protocol have been set by an environmental company. 
So for any kinds of water leakage mold damage solution call us today at 817-203-2944. We also provide free consultation and estimates. 
Common Residential Water Leakage Spot & Mold Growth in DFW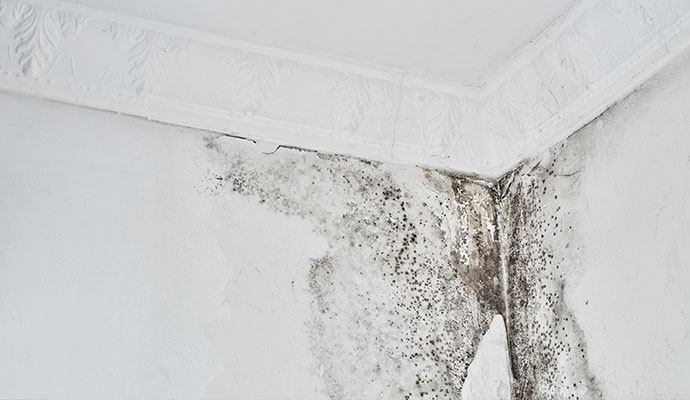 Some most common places for leaks to occur in your home include: 
Around your toilet
Under the sink
At the base of your water heater
In your showers and tubs
Around exterior spigots
On your ceilings
Common Commercial Water Leakage Spot & Mold Growth in DFW
External water leakage (such as due to pipe crack).
Leakage during monsoon season through poorly plugged gaps in the foundation.
Leakage in the basement due to poor waterproofing systems, low-quality concrete used, uneven slope, broken pipes, rise in groundwater level, any sewage pipes going under/side of the floor, etc.
Leaky roof due to the roof being too old, roof joints not sealed well, seeping rainwater.
If there is a residence above your office premise then there may be water leakage from the washroom area floor.
Pipes drains, cable alleys, clips, etc that puncture the roof's membrane may not be secured properly, opening a way for rainwater into the building.
Improper installation of skylights or the Insulation along its edges may decay over time, allowing water to leak inside, etc. 
Why Choose Us?
Dalworth provides a complete range of services to remove, cleanup, and repair and water damage to your home or office. Upon arrival, our certified specialists will work within the mold assessment and protocol set by the environmental company.
Perform Mold Removal, Clean-Up, Dry-Out and Repair
Provide Contents Restoration and Storage
Complete Water Damage Restoration and Mold Remediation
Provide Demolition, Construction & Reconstruction
We have a 24/7 emergency response team to dispatch to your site anytime and can be on-site in about an hour.
We have IICRC Certified Restoration Crews and use State-Of-The-Art Equipment. 
Contact Dalworth Restoration at the first sign of water leaks, mold damage, or water damage at 817-203-2944 or online here to get the best mold remediation solution and service in your locality.