DFW's Trusted Leader in Restoration and Clean-Up, Since 1976
24/7 Emergency Services
Over 68,150+
Successful Restoration
Projects Complete
24/7 Emergency Services
Free Estimates
Work Directly with All Insurance Companies
Bonded & Insured
Wildfire Damage Restoration Service in DFW 
Wildfires are always a huge concern in Texas. In fact, wildfires are an increasing concern nationally due to a variety of factors, Such as higher temperatures due to climate change and global warming, a surge in the number of housing units near national forests and otters. 
A single wildfire incident can cost thousands of dollars of damage to households and businesses from burning property to lingering contamination. That is why we are here to help you go past the difficult time through our well-experienced, high-tech restoration service. 
Dalworth Restoration is a licensed, local professional restoration contractor who offers all kinds of restoration services including all kinds of fire damage restoration services including wildfire damaged restoration. We offer services in Dallas, Fort Worth, Little Elm, Lucas, Blue Ridge, Grand Prairie, Irving, Lancaster, and throughout the greater Dallas/Fort Worth area.
So if you are in need of any kinds of fire damage solutions and services call us today at 817-203-2944 for a free consultation.
Types of Wildfire Smoke & Flame Damage in DFW Homes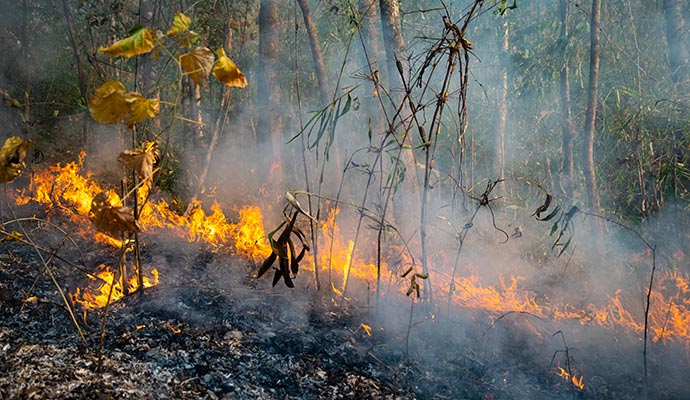 Flames and smoke from wildfires can affect many parts of your property, both residential and commercial: 
Fabric damage: such as carpets, rugs, clothes, upholstery may become discolored.
Furniture damage.
Wall damage: due to heat transfers. Concrete walls can crack because of dehydration, or prolonged heat-exposure.
Window damage: such as becoming discolored or warp.
Garden damage: Plants and soil may become harmed or contaminated by smoke.
Roof damage:  may become damaged by burning embers drifting from nearby flames.
Wildfire Restoration Services We Offer
Fire damage inspection
Immediate boarding-up (for security and to prevent further damage from the elements)
Smoke, soot, odor removal
Fire Damaged floor cleaning and repair
Content restoration
Water damaged restoration.
Water extraction
Mold and mildew remediation and many more.
Why Choose Us For Fire  Restoration Services  in DFW
24/7 Emergency Response
On-Site In About An Hour
Insurance Billed Direct
Inspections
Estimates
IICRC Certified Restoration Crews
State-Of-The-Art Water Removal & Drying equipment
We also offer other restoration services such as storm & flood damage, disinfecting service, and more. So when you need emergency fire damage restoration services for your home or business, call us at 817-203-2944 or contact us online and our team will be there in your location in no time.