DFW's Trusted Leader in Restoration and Clean-Up, Since 1976
24/7 Emergency Services
Over 68,150+
Successful Restoration
Projects Complete
24/7 Emergency Services
Free Estimates
Work Directly with All Insurance Companies
Bonded & Insured
Leaky Garbage Disposal Repair in Dallas-Fort Worth
If you notice a puddle of water underneath your kitchen sink, it's possible or likely that you have a leaky garbage disposal. Running water and through a leaky disposal system can result in a considerable mess and severe water damage before you notice the problem.
Dalworth Restoration has the solutions you need for leaky garbage disposal repair, as well as any resulting water damage cleanup and restoration. We provide our leaky garbage disposal repair in Arlington, Dallas, Plano, Garland, and across our Dallas-Fort Worth service area. For affordable, superior assistance with any water damage, call Dalworth Restoration at 817-203-2944 or contact us online to learn more and arrange a consultation.
Sources of Leaky Garbage Disposals
Garbage disposals can become blocked, jammed, overheated, disconnected from plumbing, worn out, rusted, and suffer other malfunctions. Dalworth Restoration is your professional solution for leaky garbage disposal repair if the following common sources of leaks or breakdowns are to blame:
Pasta
Bones
Grease
Eggshells
Potato peels
Meat cuttings
Vegetable skins or scraps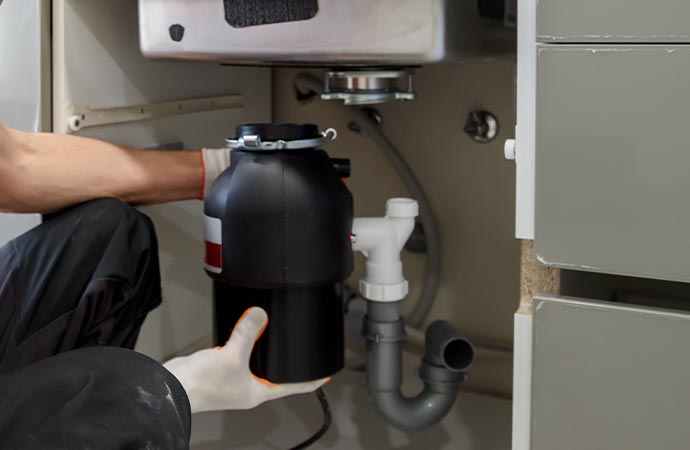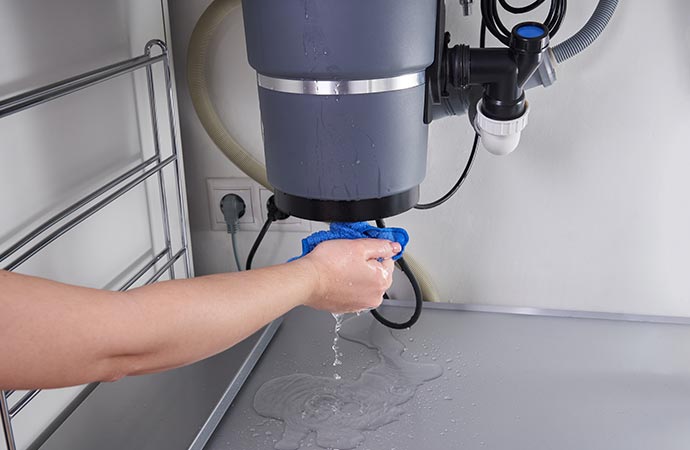 Signs of Garbage Disposal Leaks
Indications you have a leaky garbage disposal and should make Dalworth Restoration your first and last call include:
Underneath-sink flooding, pooling, etc.
Dripping sound under sink when garbage disposal runs
Soggy, damp cabinet under the sink
Spoiled or rotten food odor coming from cabinet under sink
Trust Dalworth For Leaky Garbage Disposal Repair in Sachse
For more than 40 years, Dalworth Restoration has forged a leading reputation for best results, superior quality service, and customer satisfaction. We assist customers with affordable water damage restoration, including caused by leaky garbage disposals in Highland Park, Grapevine, Haltom City, Plano, Arlington, and throughout the Dallas-Fort Worth area. We perform emergency water restoration, sewage removal and cleanup, plumbing leak damage restoration, water damage restoration, appliance leak cleanup, and more. Call us at 817-203-2944 or contact us online to learn more and arrange a consultation.