DFW's Trusted Leader in Restoration and Clean-Up, Since 1976
24/7 Emergency Services
Over 68,150+
Successful Restoration
Projects Complete
24/7 Emergency Services
Free Estimates
Work Directly with All Insurance Companies
Bonded & Insured
Biohazard Cleanup Services in Dallas-Fort Worth, TX
During epidemics, viruses, germs, and bacteria can easily spread through the air and make people sick. Furthermore, after any murder, suicide, or homicide, cleaning up bodily fluids, blood, and other wastes becomes mandatory for any home or workplace otherwise pathogens can spread. But such traumatic, stressful, and risky situations can be avoided by a professional biohazard cleanup service.
Since 1976, Dalworth Restoration has been providing the best biohazard cleanup services in Fort Worth, McKinney, Denton, Arlington, and other cities across North Texas. We are a fully certified & licensed restoration & cleanup company and all our technicians are highly experienced. We have the advanced cleaning and disinfection equipment required to thoroughly remove all traces of biohazards from your home, office, or any crime scenes. If you need professional biohazard cleanup services, call us anytime at 817-203-2944 or click here for more information.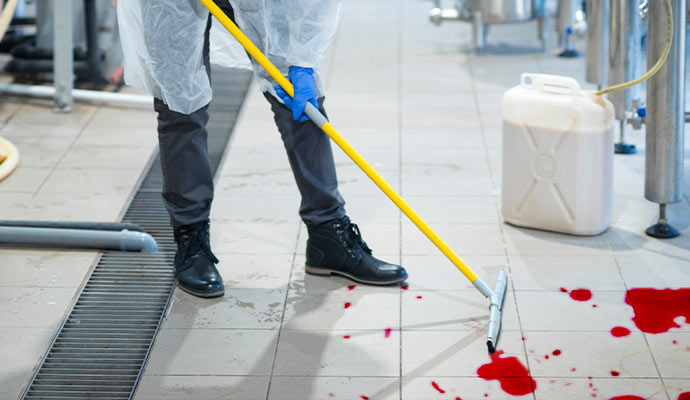 Benefits of Dalworth Restoration's Biohazard Cleaning Services
Our biohazard cleanup service offers the following benefits:
Thorough Cleaning & Safety: Blood, bodily fluids, infections, and chemicals can be dangerous biohazards. Our biohazard cleaning removes, and decontaminates these chemicals, limiting disease transmission and protecting the health of anybody who may come into touch with the afflicted area.
Odor Removal: Even after visible contamination is removed, biohazardous materials can exude unpleasant odors. Our biohazard cleaning service includes odor removal to make the atmosphere more comfortable and hygienic.
Peace of Mind: Dealing with biohazardous items and contaminated areas can be stressful. When you choose us, you won't have to worry about a thing because our team of professionals is qualified to deal with any kind of biohazard issue in a way that is both safe and effective.
We Clean, Disinfect, & Sanitize The Crime Scene or Affected Area on Your behalf
After a family member's or any customer's sudden death, your regular cleaning process will not be enough to remove blood stains, clean organic tissue, and sanitize the area from hazardous bacteria. But we at Dalworth Restoration can clean that crime spot or affected area on your behalf. We use powerful cleansers, disinfectants, and the latest cleaning solutions to make your place as clean as possible.
So whenever you need our assistance with biohazard cleanup, just dial 817-203-2944 or click here for a free estimate. Moreover, you can check out our other services such as disinfecting services, cleaning services, commercial services, and more.