DFW's Trusted Leader in Restoration and Clean-Up, Since 1976
24/7 Emergency Services
Over 66,200+
Successful Restoration
Projects Complete
24/7 Emergency Services
Free Estimates
Work Directly with All Insurance Companies
Bounded & Insured
Heavy Snow & Ice Damage Restoration in Dallas Fort-Worth
Nothing is more aggravating than dealing with snow and ice damage. When the damage from a large snowfall is serious, it adds to the list of problems. You might end up with shattered windows, doors, roof damage, broken or frozen pipes, and a variety of other problems. Even if you have all of the required tools, sometimes the blizzard is so severe that the damage cannot be fixed on your own. In such extreme instances, professionals are the only option.
If you require heavy snow and ice damage restoration service in Dallas, Fort Worth, Arlington, Plano, or our other Texas service, you must contact Dalworth Restoration online or call us at 817-203-2944 to book our services! We have special equipment and craftmanship to help you with heavy snow and ice damage restoration service within your budget!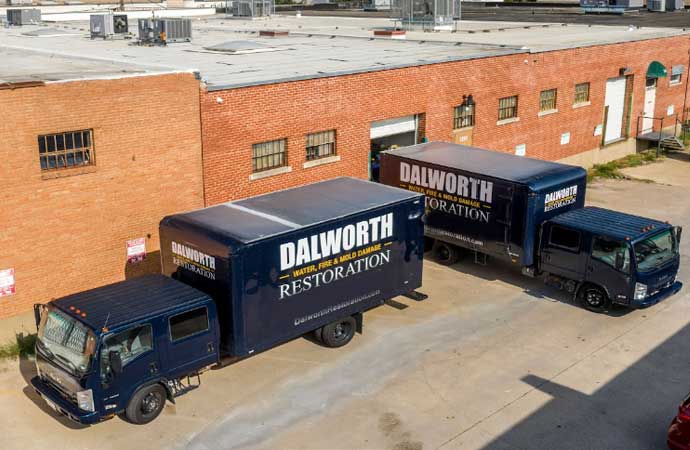 Restoration Process by Dalworth Restoration
You only need to call us to book our service, and we will be there to save your day. Your job is half done once you call and book an appointment with our staff. Our Restoration process is regarded as being efficient, quick, and dependable. When we come to your home, we'll ensure there's no further damage and that the damage doesn't spread. Then we'll remove anything we can't restore and restore what we can. Furthermore, you can expect our staff to work closely with your insurance company and bill them directly to alleviate any financial concerns.
Why Choose Dalworth Restoration?
Following are a few reasons to choose us-
24/7 emergency services
Free estimates
Work directly with all insurance companies
Bonded & insured
IICRC certified
Licensed mold remediation and removal specialists
Background checked and drug tested
Contact Dalworth Restoration online or call us at 817-203-2944 when you require our outstanding services, including winter storm damage, post-storm cleanup, roof damage from storms, and our other services.