DFW's Trusted Leader in Restoration and Clean-Up, Since 1976
24/7 Emergency Services
Over 68,150+
Successful Restoration
Projects Complete
24/7 Emergency Services
Free Estimates
Work Directly with All Insurance Companies
Bonded & Insured
Trauma Cleanup Service in Dallas-Fort Worth
After a tragedy such as an accident, a crime, or a suicide, the victims' loved ones often suffer the most emotional fallout. At that moment, it is important to have a reliable & compassionate company to handle the aftermath. After the police have done their investigation, the remaining blood or harmful chemicals pose severe health hazards. That's why you need to call for a professional cleanup service in order to make the environment clean and safe to live in. To serve this purpose, Dalworth Restoration is your trusted source. Our highly trained and certified team possesses the knowledge, skills, and experience necessary to handle a wide range of trauma cleanup situations.
If you are looking for the best trauma cleanup service in the following areas - Arlington, Bedford, Coppell, Southlake, Grapevine, and other nearby regions all over Texas, give a call at 817-203-2944. We are available to serve you 24/7 for emergencies. You can also visit the link here for more information online.
The Importance of Our Professional Trauma Cleanup Service
Traumatic events, such as accidents, crimes, or other distressing incidents, can leave behind physical and emotional scars. Dalworth Restoration understands the urgency to clean, sanitize, and restore affected areas promptly which minimizes further damage and potential health risks. Here are several reasons why relying on trained professionals for trauma cleanup is necessary: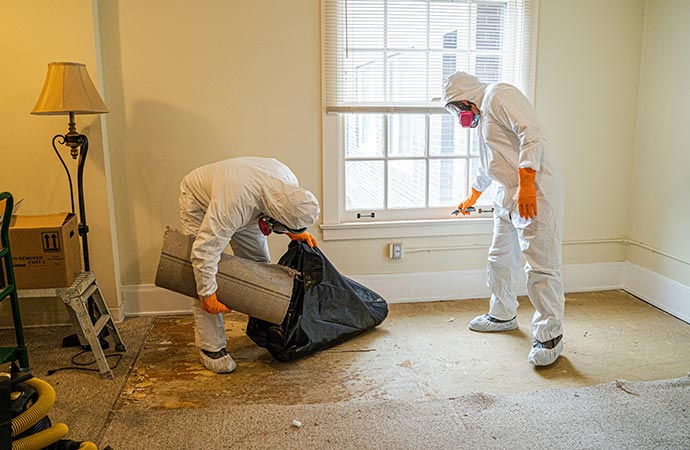 Safety & protection: Traumatic events often involve biohazardous materials that can contain pathogens, bacteria, viruses, or other harmful contaminants. These can pose significant health risks. Our professional team is equipped with the necessary knowledge, skills, and personal protective equipment (PPE) to safely handle, remove, and dispose of these materials, minimizing the risk of exposure and potential infections.
Thorough cleaning & decontamination: Trauma cleanup requires more than just surface cleaning. Our experts are trained to perform thorough cleaning and decontamination of affected areas, ensuring that all traces of biohazardous materials are completely removed.
Proper disposal: Trauma cleanup involves the proper handling, transportation, and disposal of biohazardous waste. We understand and comply with local, state, and federal regulations governing the disposal of such materials legally.
Restoration & preservation: We not only focus on cleaning and decontamination but also provide restoration and preservation. Our trained technicians can assess, repair the damage, and restore the affected area to its pre-incident condition.