DFW's Trusted Leader in Restoration and Clean-Up, Since 1976
24/7 Emergency Services
Over 68,150+
Successful Restoration
Projects Complete
24/7 Emergency Services
Free Estimates
Work Directly with All Insurance Companies
Bonded & Insured
Ceiling Water Damage & Restoration Services in Dallas/Fort Worth
Ceiling Water Damage may be due to several different causes and needs to be addressed prior to repairing the ceiling itself. When ceiling water damage is fixed without addressing the origin of the damage, future ceiling problems will continue to occur until the main issue is taken care of and repaired permanently.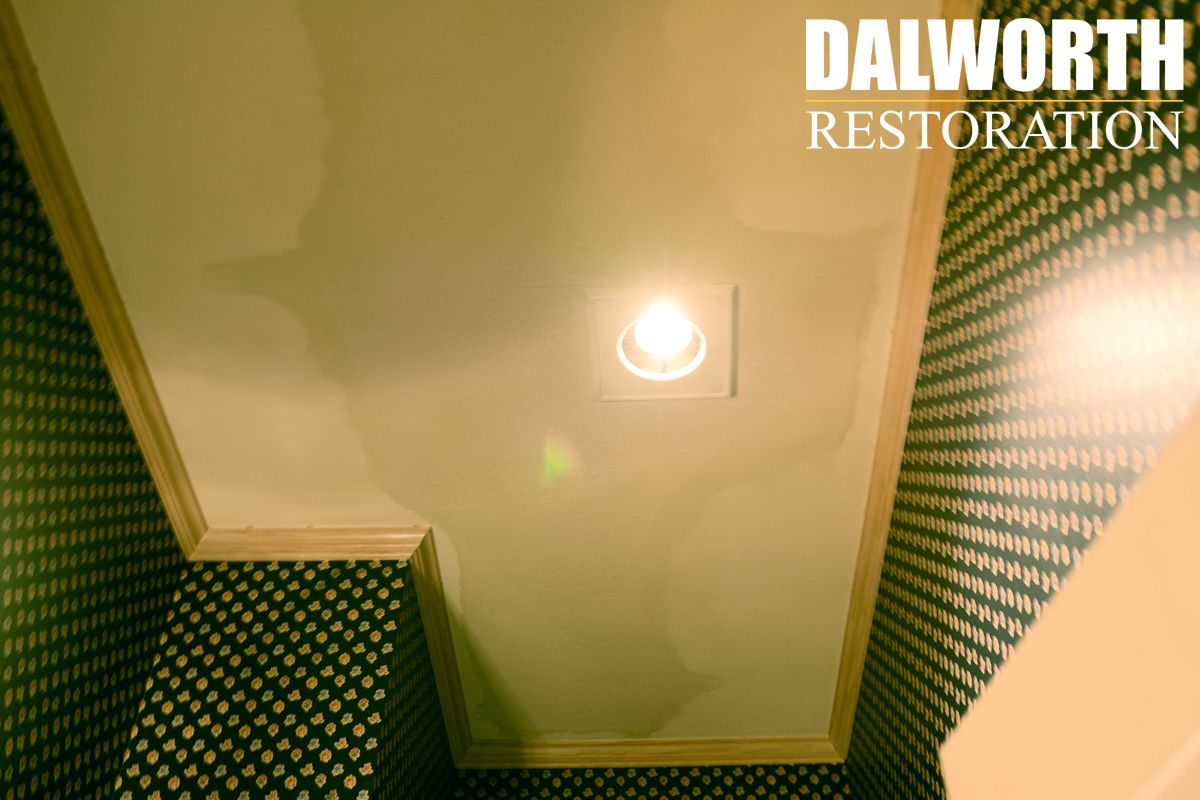 Ceiling Water Damage Causes
A leaky roof is a possible reason for ceiling water damage or a flooded ceiling. Another common cause for ceiling water damage is due to condensation from the air conditioner. A burst water heater in the attic can also cause ceiling water damage. In addition, whenever there is upstairs bathroom water damage, it may reflect on the downstairs ceiling beneath the affected area. Finally, leaking pipes are an additional possibility for ceiling water damage.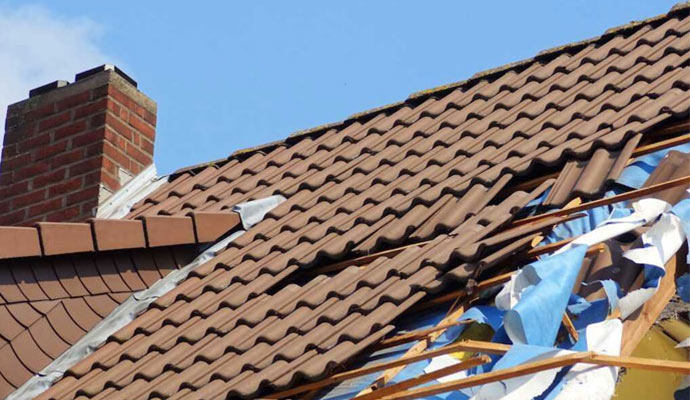 Roof Damage
A wet ceiling may go unnoticed for some time, giving water time to absorb into the attic insulation. However, if your roof is leaking, ceiling water damage may be hard to miss during a rainstorm. Possible causes for roof damage can be from loose or broken shingles, loose, cracked, or missing chimney flashing, loose or cracked chimney bricks, bent metal around skylights, and damaged vents. Annual inspection of the roof should prevent these problems. Also, roof inspection should take place any time after a major rain or hail storms.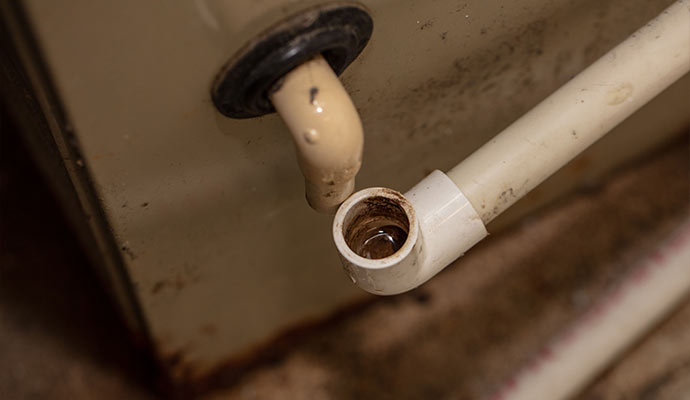 Air Conditioner Condensation
Condensation from an A/C unit can lead to tremendous ceiling water damage when the air conditioner's evaporator coil is housed in the attic or in an upstairs closet. Condensation produced by this coil goes through a drain line that is connected to the plumbing system. Sometimes dirt in the coils will form a blockage, causing water to overflow the drain pan. This can result in discoloration on your ceiling and walls. An annual air conditioner inspection is important and should include the unit and the main drain, drain lines, coils, and filter. Installation of a safety float switch will shut off power to the a/c unit in case of condensation overflowing in the drain pan, preventing ceiling water damage.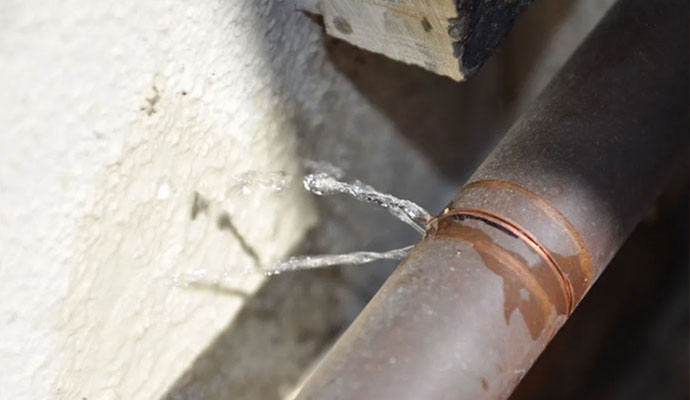 Burst Water Heater
Although it is logical and reasonable to install water heaters in the lowest level of the home, they are often placed in attics, where, if they burst or leak, can cause caved ceilings and serious water damage. Preferably, water heaters should be installed inside a drain pan that can flow into a floor drain and not cause any leaks and overflows. The next best thing is trying to prevent a water heater from leaking by regularly maintaining it and watching for rust, leaks, wear, and any indication that it is time to repair or replace it. Although more expensive, tankless water heaters may be a good alternative to conventional water heaters, at least in terms of ceiling water damage prevention.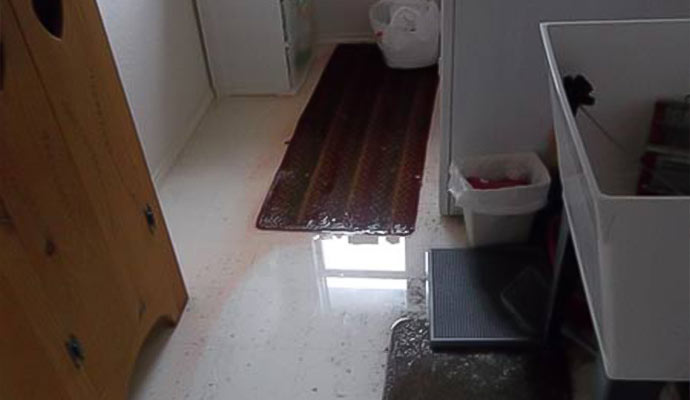 Upstairs Bathroom Overflow
A leaky, overflowing upstairs bathroom is a cause of concern as it may do quite a bit of damage to the ceiling underneath as well as other structures in the home. Sometimes, a seemingly minor drip from an upstairs bathroom can cause a slow buildup of mold that is hard to detect right away. A flooded ceiling with water stains, discoloration, and mold spots are all indications of an upcoming ceiling water damage restoration scenario. Fortunately, regular home maintenance can prevent many such unpleasant and expensive home repair projects.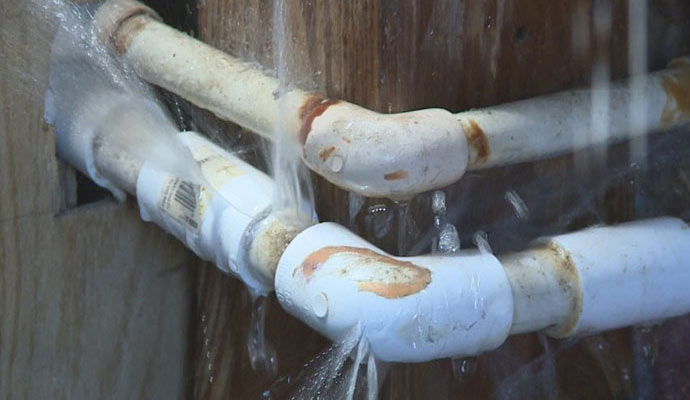 Leaking Pipes
Ceiling stains can be caused by a leaky or burst pipe or from insufficient insulation around pipes, causing condensation. Pipes can be damaged by hard water that is rich with minerals that can build up and clog pipes. This can greatly reduce the lifespan of a plumbing system and potentially cause water damage.
Effective Solutions
Prevention is the best alternative to ceiling water damage. Regular home inspection and maintenance is key to many water damage situations. Repairing or replacing parts that are worn, rusty, cracked, or otherwise damaged will reduce or eliminate potential mishaps.
Water Damage Restoration Companies
Once ceiling water damage has occurred, it needs to be attended to quickly, before damage spreads. Calling water damage restoration professionals to take care of the problem will contain the damage and resolve the problem safely and effectively. Ceiling water damage is not a repair project for amateurs, as there is potential for damage above the ceiling as well as below it. Attic insulation may be wet and may absorb a large amount of water, causing the ceiling to sag and eventually cave in. In addition, electrical wiring in the attic can be affected by water damage and can cause electrocution. Mold damage due to moisture in the attic is another issue that should be handled by professionals. Contact Dalworth Restoration today if you suspect ceiling water damage or a wet ceiling in your home or office. We are available 24/7for you in the Dallas/Fort Worth and North Texas area.