DFW's Trusted Leader in Restoration and Clean-Up, Since 1976
24/7 Emergency Services
Over 68,150+
Successful Restoration
Projects Complete
24/7 Emergency Services
Free Estimates
Work Directly with All Insurance Companies
Bonded & Insured
Straight Line Winds Damage Repair in DFW
Straight-line winds and downdrafts can cause significant damage to your property, which can be costly to repair for a homeowner. It's important to protect your property from this weather. But if damage does occur, it's also essential to get help fixing it immediately. In this situation, you can trust Dalworth Restoration for straight-line winds/downdrafts damage repair service.
Since 1976, we have been providing superior restoration services to Flower Mound, Lewisville, Plano, and throughout the Dallas-Fort Worth region. We combine state-of-the-art equipment and top-class techniques to serve you the best. Our restoration team provides 24/7 emergency response for any flood damage, water damage, disaster restoration, or wind damage need. When you need to repair the damage caused by straight-line winds for your property's protection, contact us online or call us at 817-203-2944 to schedule an appointment.
Signs of Straight Line Winds/Downdrafts Damage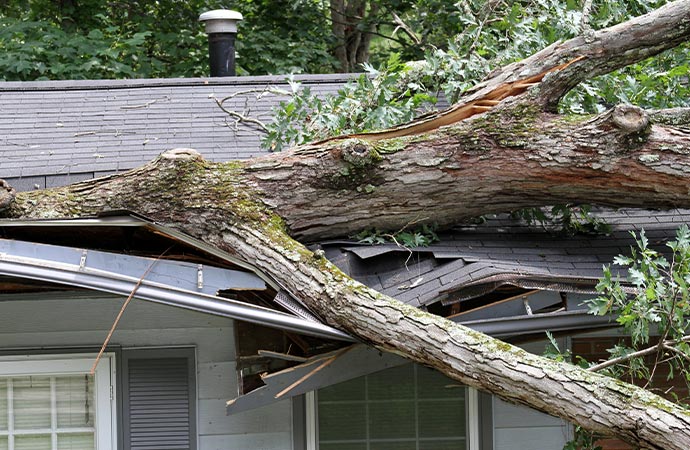 Here are some signs that may indicate you need to repair your property after experiencing straight-line winds and downdrafts:
Roof damage: Look for missing or damaged shingles, cracked or broken tiles, or visible holes in the roof. If you notice any of these signs, you may need to repair or replace your roof.
Damaged gutters and downspouts: Straight-line winds and downdrafts can also cause damage to your gutters and downspouts. Check for dents, loose or missing sections, and any signs of blockage.
Fallen trees or branches: Straight-line winds can uproot trees or cause large branches to fall. If you see any downed trees or branches, it's crucial to get rid of them safely and fix any damage they may have caused.
Whatever the sign is, you should call us immediately to restore the damage. We offer the best restoration services for straight-line wind damage.
Count on Us to Get The Best Wind Damage Restoration Services
If a severe thunderstorm causes damage to your home or business due to straight-line and downdraft winds, don't hesitate to contact Dalworth Restoration for assistance. Our certified crew will try their best to cover the damage and satisfy you with their service. Call us at 817-203-2944 or click this link to obtain our services.