DFW's Trusted Leader in Restoration and Clean-Up, Since 1976
24/7 Emergency Services
Over 68,150+
Successful Restoration
Projects Complete
24/7 Emergency Services
Free Estimates
Work Directly with All Insurance Companies
Bonded & Insured
Water Damage Classification 
We'll provide you with a FREE inspection, determine the best water cleanup method, and provide you with a  service estimate. Plus, we work directly with your insurance company to bill for our services. Contact Dalworth Restoration today to dispatch our water damage restoration team to your property in our Dallas/Fort Worth Service Area.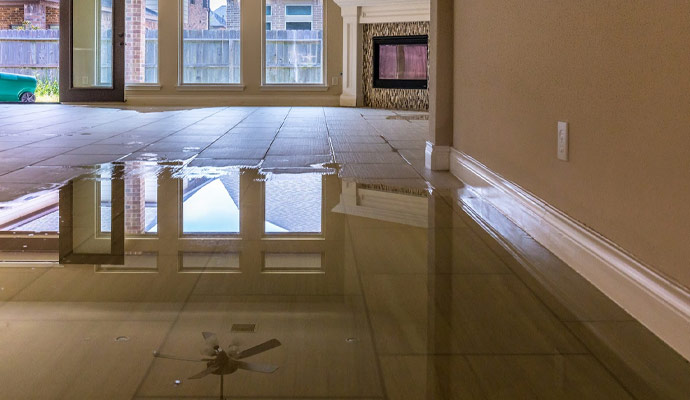 Step 3 of our water damage restoration process, we determine our water cleanup method based on the class of water damage. Water damage is classified into one of the following four classes of water absoprtion:
Class 1 Water Damage: Least amount of water, absorption and evaporation. Water losses that affect only part of a room or area, or larger areas containing materials that have absorbed minimal moisture. Little or no wet carpet and/or cushion are present.
Class 2 Water Damage: Large amount of water, absorption and evaporation. Water losses that affect at least an entire room or carpet and cushion (pad). Water has wicked up walls less than two feet. Structural materials (e.g., plywood, particleboard, structural wood, concrete) have moisture remaining.
Class 3 Water Damage: Greatest amount of water, absorption and evaporation. Water wicked up over two feet, or water may have come from overhead affecting ceilings, walls, insulation, carpet, cushion and sub-floor. The entire area are saturated.
Class 4 Water Damage: Specialty Drying Situations. These consist of wet materials with very low permeance/ porosity (hardwood, plaster, brick, concrete, stone). Typically, there are deep pockets of saturation, which requires very low specific humidity.
Contact Dalworth Restoration for complete water damage restoration and fire damage restoration services in Dallas, Fort Worth, Arlington, or any other city in North Texas.