DFW's Trusted Leader in Restoration and Clean-Up, Since 1976
24/7 Emergency Services
Over 68,150+
Successful Restoration
Projects Complete
24/7 Emergency Services
Free Estimates
Work Directly with All Insurance Companies
Bonded & Insured
Water Line Break Repair in Arlington, Plano, & Dallas
A water main is an underground pipe that delivers water to the customer's service pipe. If a hole or crack or break develops in the pipe, the water will typically find its way to the surface. Because the water main is under pressure, water will continue to flow until the break is repaired.
When you need to have a water line break repaired in Dallas, Fort Worth, Arlington, Plano, and other cities throughout our DFW service area, be sure to trust the IICRC-certified technicians from Dalworth Restoration to clean up the mess! 
Problems Caused by a Water Line Break
A water line break can cause many problems that put your home and family at risk. Some of them include:
The decrease in water pressure
A sudden increase in water usage and water bill
Sinkholes or potholes
Air or dirt in your tap water; water getting contaminated.
Unpleasant odor
Cracks in the foundation of your home
Puddles in your home, particularly on floors and under sinks
Cracked pavement
Ponding of water on ground and lawn
Visible damp spots or mold.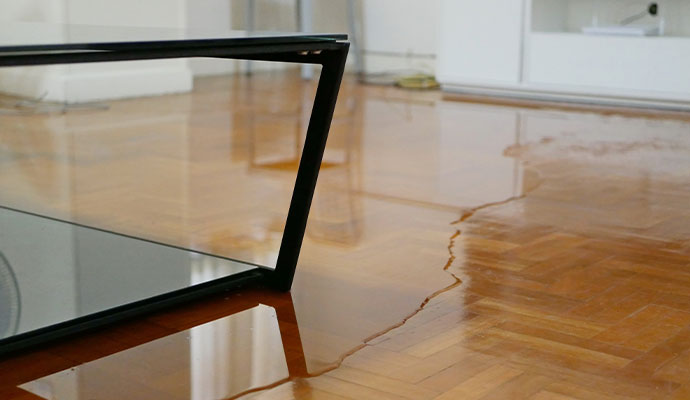 If any of the above signs occur, contact a professional plumber from Dalworth ASAP.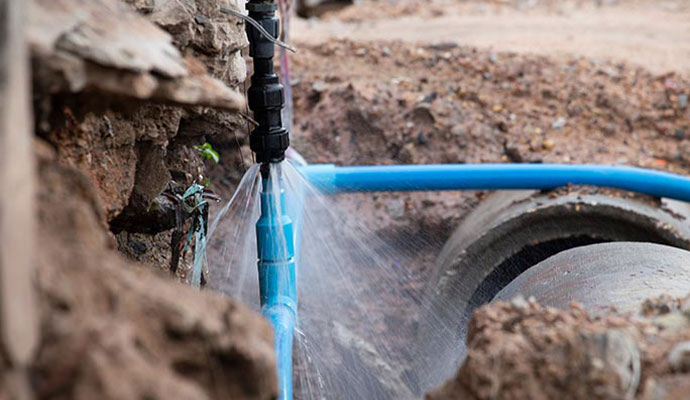 DFW's Trusted Restoration Contractor
Dalworth Restoration is your local, licensed, professional general contractor and restoration expert operating since 1976. Our service area covers Arlington, Grapevine, Euless, Hurst, and other Dallas–Fort Worth metropolitan areas. We have solutions for all plumbing needs including a water line break. To date, we have completed over 57,200 successful restoration projects.
So for any plumbing or water damage service call us today at 817-203-2944. We provide 24/7 emergency service and free consultation.
Causes of Water Line Breaks in DFW
Water leaking at your foundation wall
Tap hole leak
Broken tap
The sidewalk leak
Water leak at the curb
Freezing weather conditions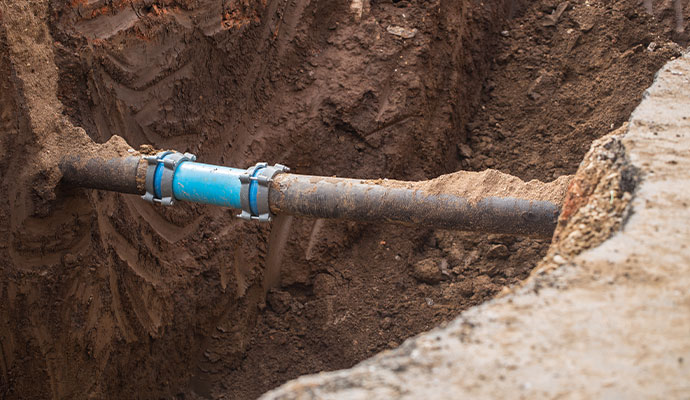 Call Dalworth Restoration to Repair Water Line Breaks in McKinney & Fort Worth
At Dalworth Restoration, we provide the best water line break repairs for customers in Dallas, Fort Worth, McKinney, Wylie, and other cities we serve throughout the Dallas-Fort Worth Metroplex. We also provide a wide array of other restoration services. When you need our help call us today at 817-203-2944 or contact us online. Benefits of working with Dalworth include:
Reliability: Member of the Better Business Bureau (BBB)
Expert Technicians: Clean Trust Certified Technicians and IICRC Certified Restoration Crews
Detailed analysis of where the water is coming from. 
Abide by Industry Standard: Water Damage Restoration Services Performed to ANSI/IICRC S500-Standards
Emergency Service: 24/7 Immediate Response
Perform All Types of Restoration Jobs: We handle installations, inspections, repairs, plumbing, & more.