DFW's Trusted Leader in Restoration and Clean-Up, Since 1976
24/7 Emergency Services
DFW's Trusted Leader in Restoration and Clean-Up, Since 1976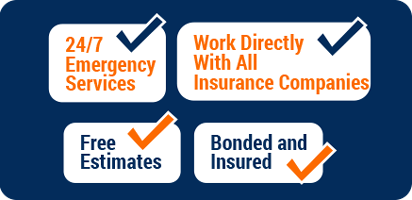 Fire and Water Damage Restoration Services in Aurora, TX
Dalworth Restoration, a member of the Dalworth family, is a full-service water and fire damage restoration company serving the Aurora area in the greater Dallas-Fort Worth area. Dalworth has been in business in the DFW Metroplex since 1976, with a commitment to providing excellent customer service that has made the company a household name. So when it comes to disaster cleanup, insurance companies prefer Dalworth Restoration.
Here at Dalworth, our team of professional, skilled and highly experienced technicians work in the best manner to restore your home or office so that you have a pleasant experience with us! We have been providing the best restoration services for a long time in Aurora, TX, and have been people's primary choice mostly! Just give us a call at 817-203-2944 today to avail of our services.
Services that We Provide
There are a lot of services that we provide here at Dalworth Restoration. This is because we want to cater to the needs of the people living in Aurora as much as we can. In Aurora and nearby cities in Texas, Dalworth Restoration provides the following services:
Rely on Us for the Best Restoration Services in Town
Dalworth Restoration is your go-to restoration company in Aurora and throughout the DFW Metroplex when your home or business has been damaged. Our main focus is the satisfaction of the client and we will do our best to ensure that! If you are facing any of the problems stated above and need professional restoration service in Aurora, why wait? Call us right now at 817-203-2944 or contact us online to have your home or business restored.
Completed Jobs from Aurora
Alan W
April 14, 2017
We extracted water, removed the pad, applied disinfectant and placed drying equipment. Insurance didn't cover the rising water so we worked with the homeowner directly to pay for services.