DFW's Trusted Leader in Restoration and Clean-Up, Since 1976
24/7 Emergency Services
Over 68,150+
Successful Restoration
Projects Complete
24/7 Emergency Services
Free Estimates
Work Directly with All Insurance Companies
Bonded & Insured
Tile and Grout Water Damage Restoration in Dallas-Fort Worth
Tile and grout can be susceptible to water damage, especially in areas with high moisture, such as bathrooms, kitchens, or basements. Root causes can include plumbing leaks, floods, overflows, or other water-related issues. Dalworth Restoration has the certified, skilled experts who deliver the best results and total satisfaction when it comes to tile and grout water damage restoration.
Our team of professionally trained technicians specialize in residential and commercial water damage restoration, including tile and grout water damage. We have assisted customers in Little Elm, Lucas, Blue Ridge, and cities throughout Dallas-Fort Worth and North Texas for the last 40 years. Call us at 817-203-2944 or contact us online to consult with a Dalworth Restoration tile and grout restoration expert. Request a free estimate today.
Common Signs of Tile & Grout Water Damage | Call Dalworth
Dalworth Restoration is your tile and grout water damage restoration expert across Dallas-Fort Worth. Look for these signs of water damaged tile and grout: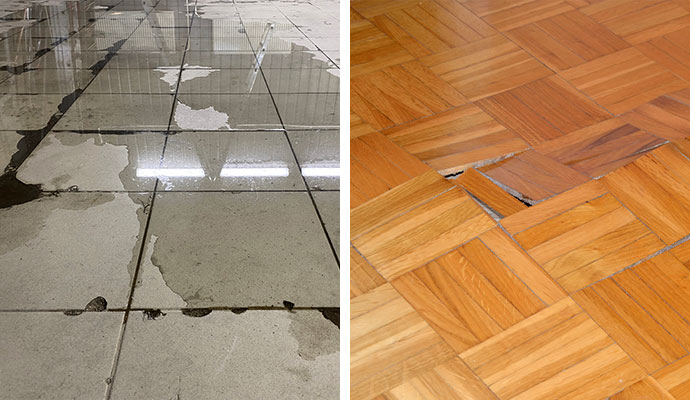 Discoloration: Water damage may cause the grout lines or tiles to change color, typically becoming darker due to moisture absorption. Stains may also appear on the surface.
Cracked or loose tiles: If you notice tiles that are no longer firmly attached or have developed cracks, water damage could be the cause.
Mold and mildew: Prolonged exposure to water can create a damp environment that encourages mold and mildew growth between tiles or in grout lines. These fungi thrive in moist conditions and can indicate water damage.
Sunken tiles: If certain areas of the tiled floor or wall seem to sink when pressed, it can indicate water damage. Water can weaken the subfloor or backer board, making tile less sturdy.
Musty odor: An unpleasant, musty smell in the room could suggest the presence of mold and mildew, which often thrive in damp conditions caused by water damage.
Water stains: In cases where water has penetrated the grout and tiles on a wall, you may see water stains or discoloration on the wall or ceiling beneath the affected area.