DFW's Trusted Leader in Restoration and Clean-Up, Since 1976
24/7 Emergency Services
Over 68,150+
Successful Restoration
Projects Complete
24/7 Emergency Services
Free Estimates
Work Directly with All Insurance Companies
Bonded & Insured
Water Damaged Floor Removal in Dallas-Fort Worth
Ceiling or attic leaks, storm damage, unsealed windows or doors, and appliance or plumbing overflows can all result in water damaged floors. Repeated spills or pet accidents can take a toll, and soon it's time for water-damaged floor removal and restoration. Before mold growth occurs, turn to Dalworth Restoration, the leader for water damage in Dallas-Fort Worth and North Texas.
For decades, Dalworth Restoration has been the No. 1 choice for water damaged floor removal and other restoration, providing superior results. We're the proven name in damage repair and restoration in scores of North Texas cities, including Bedford, Colleyville, Euless, Keller, and across our Dallas-Fort Worth service area. For water-damaged floor removal and restoration, call us today at 817-203-2944 or contact us online to consult with a Dalworth Restoration floor restoration expert.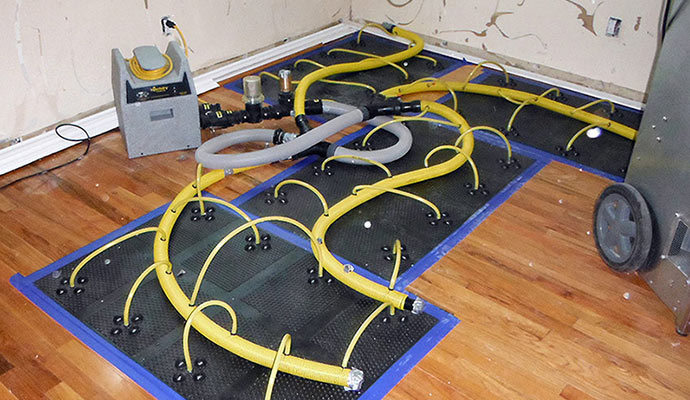 Call Us For Floor Water Damage in D/FW
Dalworth Restoration is your water damaged floor removal and restoration expert across Dallas-Fort Worth. Look for these signs of floor water damage:
Discoloration or stains: Water damage can cause flooring to become discolored or stain. This is especially noticeable on wood, laminate, or carpeted floors.
Warping or buckling: Excess water can cause certain types of flooring, like hardwood or laminate, to warp or buckle. This may result in uneven or raised areas on the floor.
Soft, spongy spots: When water seeps into the flooring material, it can make the floor feel spongy or soft in certain areas. This is particularly evident on wood or laminate floors.
Cupping: Cupping occurs when the edges of individual floorboards or tiles are higher than the center. It's a sign that moisture has penetrated the wood, causing it to swell.
Mold and mildew: Moisture provides an ideal environment for mold and mildew to grow. If you notice black or greenish patches on your floors, especially in damp areas, it could be a sign of water damage.