DFW's Trusted Leader in Restoration and Clean-Up, Since 1976
24/7 Emergency Services
Over 66,200+
Successful Restoration
Projects Complete
24/7 Emergency Services
Free Estimates
Work Directly with All Insurance Companies
Bounded & Insured
Floor Water Damage Restoration throughout Dallas, Texas
When your home is flooded by water from a storm, a leak, or an overflow, the first thing you must do after the emergency has passed is to call a well-reputed restoration company like Dalworth. Because when water damage strikes, the first thing that gets affected is the floor. When water stays on the floor for a long time, floor damage is bound to happen.
Water should be cleaned up and restored as soon as possible before it becomes a bigger problem, such as mold. Warping, cracks, and rot in the floor are other things you will have to deal with if you don't go for floor water damage restoration quickly. Contact Dalworth Restoration at 817-203-2944 or contact us online as early as possible when you need floor water damage restoration services in Arlington, Dallas, Plano, Garland, and our other service areas.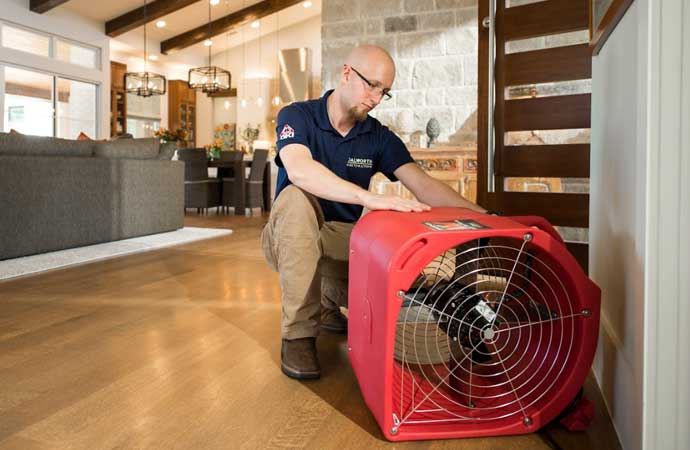 Floor Water Damage Service by Dalworth Restoration
What should you do in the event of floor water damage in your home? Never think of letting your floor be as it is as the end result won't be good. You may end up having mold and odor issues. Make sure to call a reputable company.
Dalworth's floor water damage restoration technicians are certified, bonded, and insured for your safety and peace of mind. When your home or company gets flooded, the last thing you need is additional stress. Whether the water damage is due to a natural disaster, a burst kitchen pipe, or flooding, contact Dalworth Restoration for floor water damage restoration in your North Texas town.
Why Choose Dalworth Restoration?
Following are a few reasons to choose us-
24/7 emergency services
Free estimates
Work directly with all insurance companies
Bonded & insured
IICRC certified
Licensed mold remediation and removal specialists
Background checked and drug tested
Do not let your floor get damaged due to standing water on it. Put your trust in the extensive experience and knowledge of the experts of Dalworth Restoration and see the magic. Our services include carpet water damage, plumbing overflow cleanup, appliance leak cleanup, and many more! Call us at 817-203-2944 for more information.