DFW's Trusted Leader in Restoration and Clean-Up, Since 1976
24/7 Emergency Services
Over 68,150+
Successful Restoration
Projects Complete
24/7 Emergency Services
Free Estimates
Work Directly with All Insurance Companies
Bonded & Insured
Water Damage Restoration Equipment in D/FW
A key determinant of a proper water damage restoration is the use of the right equipment during the restoration process. Each property is different owing to its location, age, number and types of furniture it has, etc. Thus water damage caused would be different. Restoration companies must use tools and techniques that can adjust and cope up with the different working conditions.
Dalworth Restoration has been providing different residential and commercial restoration and construction services (such as water damage, storm/flood damage, etc.) all over Northern Texas for the last 40 years. Our certified and trained technicians are equipped with some of the most sophisticated, high-quality, and effective water damage restoration tools available in the market. Whether it is a dehumidifier, flood pumper, air mover, scrubber, a moisture meter, or any other water restoration tools, we have it all.
So call us today at 817-203-2944 for a free on-sight inspection and free estimate.
Dalworth Equipment for Restoration of North Texas Properties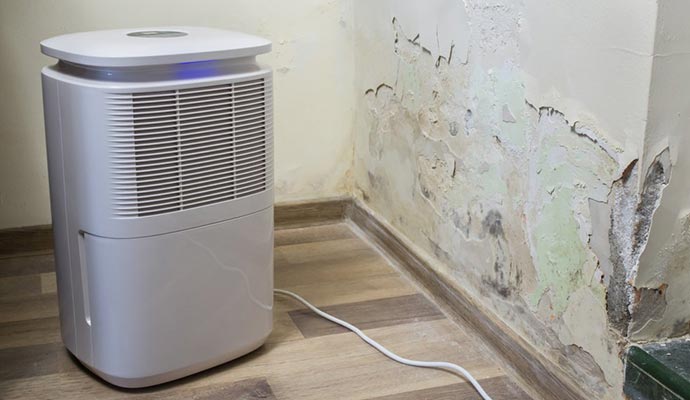 Dehumidifiers-Structural Drying
Dehumidifiers are key tools for drying and restoring your home after water damage caused by leaky plumbing or a flood. Dehumidifiers can quickly and efficiently extract water, dry flooring, and walls, and curb harmful mold growth.
Our water damage dehumidifiers typically feature large wheels for ease of mobility and internal condensate pumps for no-hassle water removal. Many are ductable to maximize airflow for more effective drying. We use LGR, Desiccant, and other types of dehumidifiers for water damage restoration and drying applications as suitable.
LGR Dehumidifier
LGR refers to Low Grain Refrigerant units. Unlike conventional refrigerants, an LGR unit removes water even below 40 grains per pound (GPP). These are ideal for working in temperatures between 90 -120 degrees.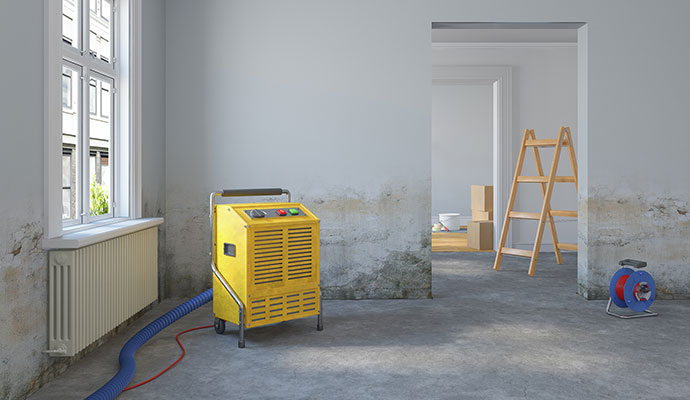 Desiccant Dehumidifier in Dallas-Fort Worth
Desiccant dehumidifiers remove moisture from the air by forcing room air through silica gel and expelling dry air out the other side. This is especially popular for low temperature dehumidifying because there is no chance of frost developing and interrupting compressor operation. That makes them great choices for heavy-duty moisture removal tasks in residential, industrial, and commercial spaces.
Portable Dehumidifiers
These come in a range of sizes and capabilities and extract moisture from the air using principles to HVAC systems.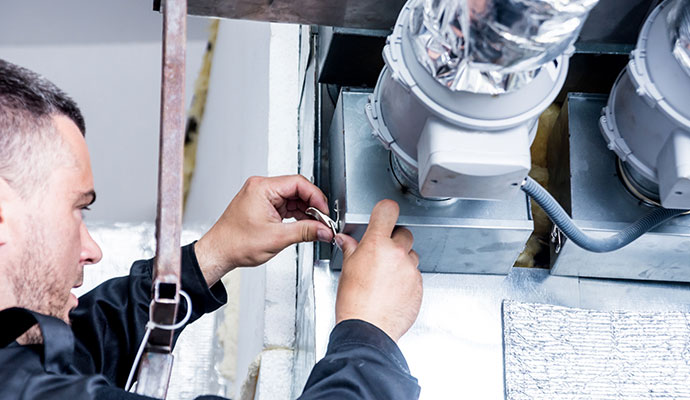 Air Scrubbers
Air scrubbers are essential after a major flooding event. These units work to remove airborne mold spores and other contaminants accumulated while standing water and moisture were present. The machine purifies the air in your home or office while the restoration process is ongoing, keeping construction workers and your family or loved ones safe.
Air Movers
Air movers blow huge amounts of air rapidly across a surface to create evaporation of moisture from carpet, hardwood, grout, or other porous surfaces that have absorbed moisture during flooding. The unit creates a bit of a vacuum by moving air horizontally, extracting excess moisture from the surface beneath.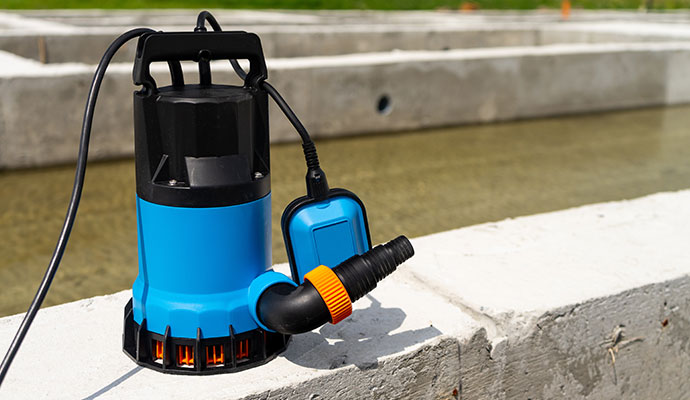 Flood Pumper
Flood Pumper can vacuum large amounts of water which makes it an ideal tool for clearing flooded basements or removing excess water caused by fire damage or broken pipes.
Dry Fans
Ventilation fans circulate air so that the moisture is evaporated into the air via the other equipment is pushed through the HVAC system for filtering and further drying, or to the outdoors, circulating dryer air back in. Ventilation fans remove moisture, but in a more general area than an air mover.
Moisture Meters
This is a diagnostic tool that helps measure moisture, as well as mapping and locating moisture in a variety of surfaces. Moisture meters provide moisture search, location assistance, and surface dryness.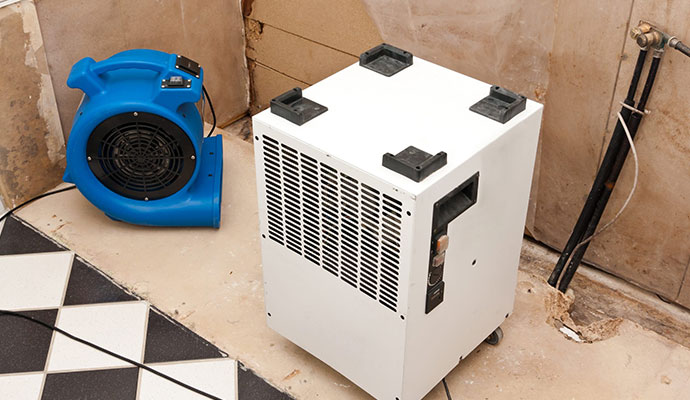 Dalworth Technicians are Certified & Bonded to Restore Your Property in Dallas-Fort Worth
Dalworth Restoration is a fully licensed and bonded restoration general contractor in Texas. We provide water, flood, storm, disaster, and mold damage and clean-up services in Addison, Balch Springs, Carrollton, Grand Prairie, and other areas of North Texas and D/FW Metroplex.
Our crews are IICRC-certified and receive specialized training at our Dallas-Fort Worth restoration facility. Our technicians are trained to professionally perform water damage restoration services according to the best practices and ANSI/IICRC S500 standards. Technicians are available 24/7 for emergency water removal, cleanup, and content repair, as well as rebuild and restore your water or flood-damaged property to pre-loss condition.
Dalworth Has the Best Water Damage Restoration Equipment in D/FW
At Dalworth Restoration, we are affiliated with leading restoration equipment and solution providers and can provide customers with next-level water damage restoration solutions. Dalworth works with most insurance companies and will bill the insurance directly for claims while we are on-site, restoring your property. Our goal is to make things convenient for you, so your property is back to normal operations as soon as possible.
We provide all kinds of water damage restoration services such as residential & commercial plumbing, appliance leak cleanup, and much more. When you need our services, give us a call at 817-203-2944 or contact us online to learn more or to schedule an appointment.