Cost Efficiency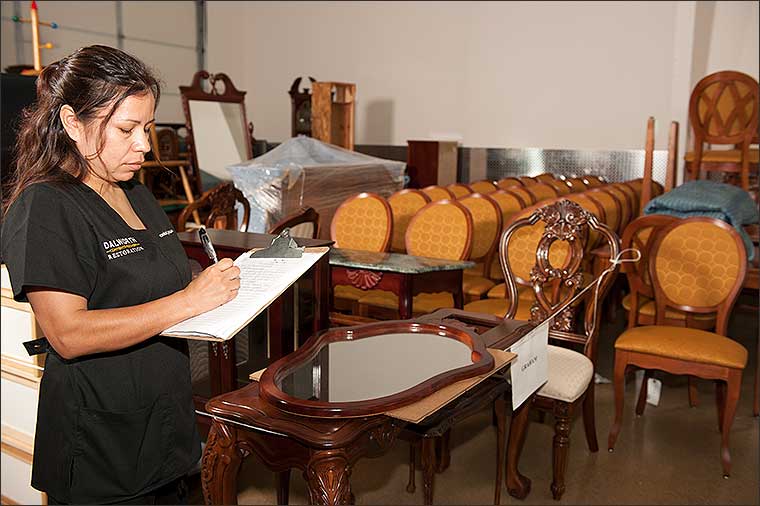 At our Dallas contents restoration facility, recovering valuables is a process, where specific methods and techniques are employed for salvaging and cleaning fire, smoke, soot, mold and water damaged household property. Damaged belongings are costly to replace; however, contents restoration can be accomplished at a fraction of the expense, with amazing results. When items are restored rather than replaced, there is much less waste as content salvaging is often an environmentally friendly, safe and gentle process. Practicality aside, although the savings from contents restoration are quite impressive, memories are often tied to household contents, and those cannot be casually replaced, sometimes at any cost.
Smooth Process
At Dalworth Restoration, we understand that property restoration and cleaning following fire and water damage events is extremely stressful. We do our best to make the process as smooth and painless as possible, always keeping our customers in mind and working quickly and efficiently to salvage as many valuables as possible. Moreover, in addition to salvaging contents, we have put time and effort over the years in perfecting and systematizing our methods of operation for optimal workflow. We have merged productive and efficient operations with innovative techniques in the contents restoration industry to come up with exceptional results.
Workflow
Our contents restoration process is well organized and methodical and allows for a fluid and systematic progression of workflow. The process begins with our trained contents restoration personnel gathering, sorting and tagging post fire or water damaged salvageable items, pre-cleaning them and gently packing them for safe transport to our state of the art Dallas contents restoration facility. There, the items are carefully unpacked, cleaned and restored. Valuables are then repacked for either transporting back to our customers or for storage in our climate controlled Dallas contents restoration facility until necessary property restoration work is complete and items can be safely transported back to the homeowners.
Process Systematization
We invested considerable time and thought in streamlining operations in our Dallas contents restoration facility. The overall output of Dalworth Restoration's cleaning and salvaging organization was assessed by content restoration industry experts, who meticulously analyzed all the viable components of our operation. Facility and work area layout, machinery performance and output, sequence of operations, and technician training and skill were all evaluated and optimized.
Personnel Training
As cutting edge technologic advances in contents restoration come into the market, Dalworth Restoration is quick to analyze their potential benefits and adapt them into our daily operations. That includes training of personnel in these new methods and procedures with series of instruction and hands on intensive practice. Moreover, our professional restorers are required to regularly attend various industry-certified training classes. In fact, our personnel is not only trained in advanced ultrasonic cleaning and electronics restoration techniques, but is also certified in them.
Skilled Professionals
Skilled and proficient personnel are vital to increased productivity. For operations to progress smoothly and efficiently, every aspect of the workflow must be analyzed by trained professionals to determine the proper course of action. Decisions to determine the processing of contents depend on the particular valuable's condition and classification. For example, a severely fire damaged figurine will be restored differently than a water damaged electronics equipment or a soot covered financial document. At Dalworth Restoration, we are always looking to improve and update the technological aspects of operations, but now, as always, our skilled professionals are still our best assets.