DFW's Trusted Leader in Restoration and Clean-Up, Since 1976
24/7 Emergency Services
Water Damage Cleanup Case Study in Crowley, TX
Customer:R. Ober
Event: Water Damage Cleanup
Services Provided: Emergency Service, Water Extraction and Structure Drying.
A water damage restoration project was successfully completed in Crowley, TX  by Dalworth Restoration.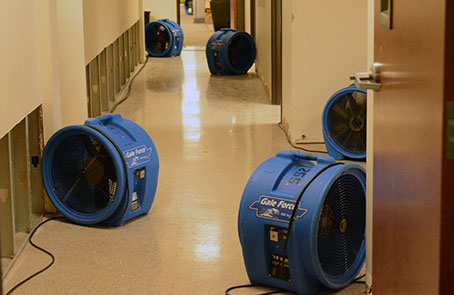 The homeowner called in reporting a toilet overflow and only a couple of areas affected. Upon arrival at the home, however, the Dalworth technician found standing water in two rooms and the baseboards to be very saturated. Because the homeowner had already filed a claim with her insurance company,the technician was able to get started immediately extracting the water. After the technician completed the water extraction, he recommended that due to the amount of water and type of grey water, the carpet and pad needed to be removed. He removed two rooms of carpet, pad, and baseboards and set up additional fans and dehumidifiers to ensure 100% drying of the affected areas.
A Dalworth technician went back to the home every day for 3 days to check the equipment and monitor the drying in order to ensure the home would return back to its normal state. Upon completion of the home, Dalworth sprayed the product Benefect (a botanical microbial disinfectant) throughout the house to kill any remaining germs or traces of the fungus.
Since Dalworth is a turn-key construction and repair company, they will be providing the repairs needed as a result of the mitigation. This will include installing brand new carpet and pad and putting on the new baseboards. 
Home estimates. Call us today 817-203-2944