DFW's Trusted Leader in Restoration and Clean-Up, Since 1976
24/7 Emergency Services
Contents Pros For Rent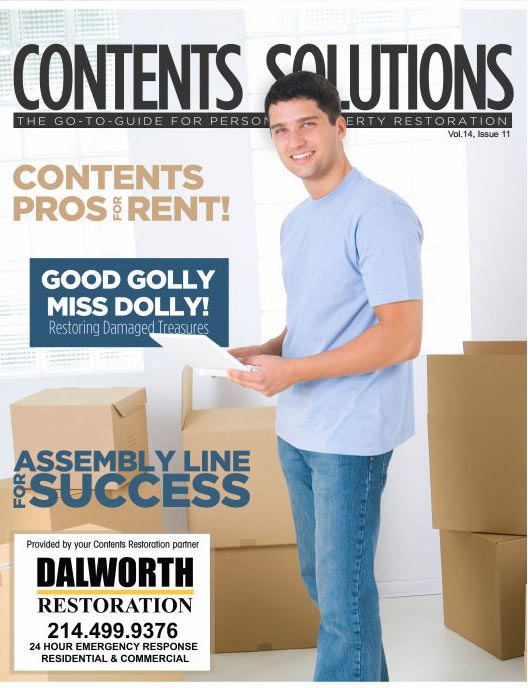 Insurance adjusters have known for decades how important a contents team can be when the carrier is trying to find ways to save money on any given job. And because of that, other restoration companies (that don't have contents teams) have been inviting contents companies to aid them in completing their assignments.
Restoration firms without a contents task force are often not offered specific jobs in which the contents of the home or office will play a major role. And when a respected contents crew becomes their associate, not only can they accept such projects, but they are assured that the contents team will make the job run smoothly and help the contractor's company look good to the adjuster in charge of the claim.
Some contractors know that to perform contents work well, they may have to purchase training and equipment for their personnel that represents a huge outlay of resources and thus are reluctant to do so. Contents companies have already made the investment, so with them on the job, the structural workers can focus their reserves and supplies on the part of the assignment where their expertise already lies.
Part of the training for the contents specialists includes methods for fitting in seamlessly with the company that hires them. Their project manager reports directly to the onsite administrator for the contractor and they are able to work autonomously without a great deal of supervision. They are a group of specialists who can perform cleaning, packout, inventory and transport -- while supporting the structural contractor's efforts for getting the job done quickly, efficiently and profitably.
The contents pros seek methods for restoring valued items instead of replacing them. This helps the adjuster with his (her) bottom line. And often the extra savings from their efforts can be used to better advantage by the hiring contractor. But they never mitigate or restore without a specific request from the project manager -- thus the contractor maintains absolute control and has a powerful secondary company that is competent, capable and experienced.
Contents pros are known for their innovative skills as well. Structural professionals are rarely required to seek ways of saving furniture, clothing, books, documents, art, electronics, antiques, etc. Contents specialists know that every job will pose different challenges and their training, equipment and strategies are all geared toward saving money for the company that hires them and the insurance carrier that is watching over the claim's finances.
One of the most useful things about contents teams is their versatility. They are often called upon to clean and restore warehouses and their contents, offices, retail stores and storage.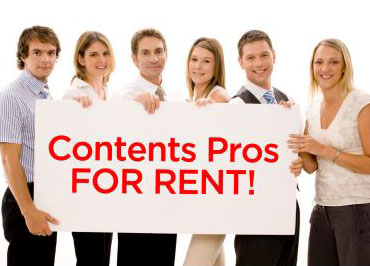 Often, we have included articles in Contents Solutions that showcase contents restoration for hospitals, medical facilities, nursing homes, schools and childcare buildings -- especially as they relate to cleaning and decontamination (including viruses like H1N1 and bacterial infections such as MRSA.)
So companies that are not trained or equipped for such challenges consider the contents pros to be most valuable allies.
And when one of these teams is working in the capacity of associate or "sub-contractor," they embrace the goals of the contractor who hired them and dedicate themselves toward the completion of those goals. They blend in and become an integral part of the overall business at hand.
Contents specialists save insurance carriers significant sums on virtually every job -- adjusters select them with that anticipation. And that is just another great reason the structural companies invite the contents pros to join their team!
Common Sense Makes Cents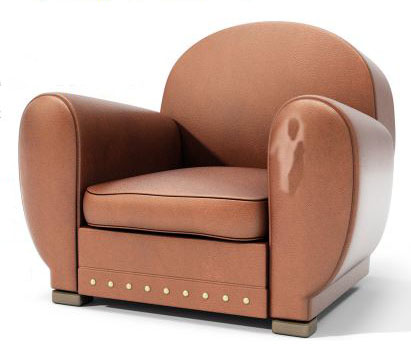 Contents professionals spend weeks or months in classrooms over the length of their careers.
Why? Because even the smallest mistake can be costly. It can also anger a client and disappoint an insurance adjuster or agent.
For example, an overenthusiastic and untrained cleaner might see soot on a leather recliner and apply a dab of leather cleaning paste, then give it a brisk rub – only to become horrified when the cleaner leaves either a dark spot or a spot so clean that it no longer matches the rest of the chair, resulting in a whole lot more work!
Trained contents pros know how to spot "dry soot" as opposed to the wet sort and they know how to restore such surfaces with specific solutions, special cloths and sponges and a "touch" that comes from experience.
The well-educated specialist not only does a good job, but looks for ways to make things easier for the insurance carrier, its representatives and the owner. They talk, they listen, they educate and they perform. Untrained workers rarely make a job easier, contents pros always do.
Estimate That
Estimates can cement a relationship between adjuster and contents contractor, or they can ruin one.
Industry spokesperson Barb Jackson, CR, began the "contents movement" over 25 years ago, so we asked her, "What is the best sort of estimate one can provide?"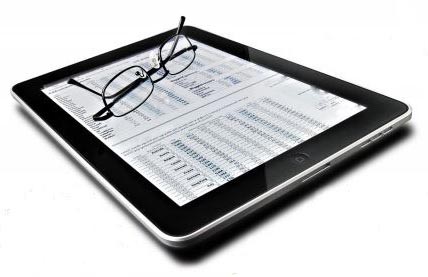 Barb answered, "It may seem obvious, but the best estimate is the one the adjuster likes."
She continued, "There are certain elements that each adjuster looks for and each professional has pet peeves and strong points of interest. Still, there are excellent rules of thumb that can make things easier.
"For example, adjusters want an estimate delivered in a timely manner. And that is why, during the past decade, I have been teaching hundreds of contents pros how to create an estimate so quickly that it can be done during the initial walkthrough – but so accurate that an insurance adjuster or claims manager can glance down the rows of information and recognize the precision and specificity without having to hesitate.
"Adjusters often prefer that an estimate be given in a specific format – Xactimate is a good example. And the estimate has to make sense – just the number of boxes used in a packout can raise a red flag if they don't match the adjuster's anticipation.
"Most contents professionals will create one during the walk through, with the owner by his (her) side and will add digital photos, explanatory paragraphs and descriptions. Why go to so much bother? Because my second 'rule of thumb' is that the adjuster won't be the only one who reads the estimate. Claims managers and owners will see it as well. It has to be presented simply, yet with enough detail so that there is no guessing, no misunderstandings and no disagreements between the adjuster and his boss."
We asked, "How can you do it so accurately so quickly?"
Barb answered, "Contents specialists ask the question, "If I were the adjuster or claims manager, how would I react to the data in this estimate?" If there is any doubt or hesitation, it isn't ready to be submitted. When they can read through it all the way – complete with the notes and photographs as illustrations – and feel rock-solid, that is the estimate they submit."
"Often, the contents pros act as the eyes of the adjusters. Experienced professionals know how to make it easy for an insurance representative to close one job and move on to the next."
All Dolled Up
The contents professionals faced an unusual case when a fire broke out in a microwave oven. The heat caused a kitchen fire and the ensuing flames coated a 4,000 square foot home in smoke and ash.
As part of the job, the pros were asked to restore thousands of figurines and dolls that the homeowner had been collecting for years.
Normally an extensive packout would have been called for, but because of the fragile nature of the little treasures, the team opted to clean the valued items on site.
Much of the collection was meticulously hand-cleaned with a high pressure, low moisture "dry steam" cleaner.
These machines can sanitize and deodorize without chemicals – another plus when dealing with already compromised items.
Some of the dolls and figurines had already been cracked by the intense heat of the fire, but the contents pros were able to restore the remaining 95% to pre-loss condition, saving the insurance company a significant sum and reducing the anxiety of the visibly upset owner.
Every so often, the contents of a home are far more valued than the walls and ceilings – that is why contents specialists always make their best efforts to restore instead of replace.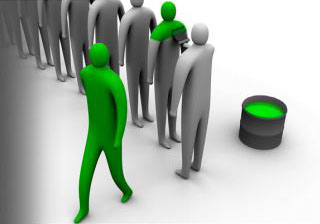 Assembly Line of Success
Contents teams are often so well integrated that they have been likened to an "assembly line" of success. If a contents manager has to leave the team to complete her (his) duties, it is common for another team member to step into the manager's position, while a third easily slides into the position left by the new manager. The process never stops because each individual is competent, well trained, well experienced and used to shifting positions as the job calls for it.