DFW's Trusted Leader in Restoration and Clean-Up, Since 1976
24/7 Emergency Services
February 2017:
Contents Pros Help You Sell Properties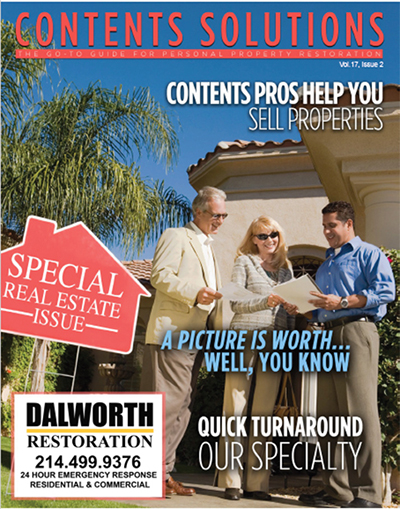 Many successful realtors are forging strong bods with contents restoration teams, for a whole lot of profitable reasons.
Contents pros clean – but they are not, strictly speaking, "cleaning ladies." As an example, you already know that a house that has had a small kitchen fire will have smoke odors throughout. Even if the owners don't notice it, a prospective buyer will, no matter what room they are in!
Contents professionals can remove smoke odors from every room (not just cover them up with a temporary fragrance). The same goes for pet odors (always a deal breaker for savvy buyers – contents companies have formulas that neutralize such odors so there is no chance of them coming back during an open house)!
And as for mold and mildew – the fragrance of mildew will kill a deal the moment the prospective buyers walk into the entryway. With lethal mold making headlines, the sight of it in bathrooms, laundry rooms or kitchens force the buyers to see themselves living in an unsafe home.
Contents specialists have compounds that not only remove mold down to its roots, but leave no fragrance at all. Cleaning companies often use chlorine-based solutions that does not kill mold at all, but simply bleaches it and makes it invisible, with a smell that could stun a rhinoceros.
Many contents pros are using such advanced systems as hydroxyls to erase odors in every room of the house, every couch, every wall and ceiling in just minutes. And they are using other new technologies including electrolyzed water to clean everything from carpet stains to kitchen counters – it starts out as water, becomes "ionized" with an electric charge, then returns back into plain water minutes after it is used. No fragrance, no residue, no fuss, no mess.
When a realtor puts on his(her) "buyer hat" and walks through the property, it doesn't take long to discover all manner of places a contents crew could make a real difference. Some real estate agents and brokers like to "stage" a home with rented furniture to make it eminently sellable. But when that simply isn't in the budget, contents teams have vehicles to remove dilapidated furniture and store it safely – and they have techniques that enable them to restore some furniture on the spot.
Water marks on a table? We know how to remove them without ever moving the table itself.
Scratches and gouges on wooden chair legs? There are three ways to make them almost invisible and we know them all.
Red stains on a white couch? We've seen it all before. One contents pro even "fixed an expensive black leather couch that had been scorched, with nothing more than a can of leather dye and some ingenuity!
Candle wax on the carpets? Removing it is one of our hundreds of specialties.
If you want to sell a house that is in need of skills way beyond those of ordinary cleaning crews, let us know – we'll share some photos of jobs where we "did the impossible." Then we'll get to work making your property sell.
A PICTURE IS WORTH...WELL, YOU KNOW
One very common service performed by contents professionals (but rarely if ever by hauling firms and cleaning companies) is "digital photo inventory."The contents manager performs an initial "walk through" of the property, often with either the owner or realtor, during which she (he) takes pictures of every room and salient items within. That way if anything is reported damaged, the photos will show whether it occurred before or during the restoration process.The photos are also useful should anything go missing. And of course they will show a "before and after" chronicle of their efforts. Plus, if any items are removed ("packed out") to be cleaned, deodorized and restored off-site the digital pictures will show the contents pros exactly where each item was originally and where it should be returned.
Both the owner and the realtor will have access to all images to be used in any manner that will help to get the property sold.
QUICK TURNAROUND
OUR SPECIALTY
When there is a death in the family or a divorce, sometimes the home for sale is full of furniture and household items that no one wants – at that point the realtor can suggest that the new owner remove the furniture and "stage" the house with more appealing items. Or, persuade the owner to donate everything to charity (and leave the property empty – thus giving up any chance of that all inviting "lived in" look that helps close sales). Or any one of a half dozen other less-than-acceptable alternatives.
One of the best choices might be to arrange for a contents cleaning and restoration team to prepare the home for sale and restore the furniture, carpet, drapes, bedclothes, etc. to a level that is more inviting to a prospective buyer.
If structural repairs are needed, the contents manager can bring in contractors (usually from the same company), so everything is completed in a timely manner and the property can be shown to advantage in only a few days – within a budget agreed upon by you and the owner.
When a homeowner is retiring, or transferring to a new location on short notice, or just lost a job, or is facing foreclosure – time is of the essence and contents pros have the training, technology and techniques to restore a house to sellable condition quickly and efficiently.
Selling a Hoarding House
One realtor told us that it is easier to sell a haunted house than it is to sell a home where a hoarder lived or is still living.
Newspapers stacked to the ceiling. Bottles everywhere, the stench of rotting food (and possibly dead rodents), dust, detritus and garbage strewn throughout – there are only two things one can do with such a house. One is to forget the house altogether and hope the land is valuable enough to entice a buyer.
The other is to make the house "livable" and even attractive to prospective buyers.
One way the cleanup can be accomplished is by hiring "two guys and a truck" who will come in, toss everything into a dumpster and possibly (not likely) vacuum before they leave.
A better method is to get a real contents restoration team to remove the detritus and go through every pocket of dirty clothing, look in every envelope (for valuable documents), in every nook and cranny for hidden valuables (we have even found cash rolled up in window blinds and gold ingots in old shoes).
Why bother? Not because of the rolled-up cash, but because the owners have actually sued the "throw away" guys for disposing of their birth certificates, deeds, stocks and bonds, expensive jewelry, Gucci handbags, Louis Vuitton shoes and an antique "crazed" urn that was worth as much as the house (they threw it away because it "…had cracks in it.")
Contents pros have cleaned and restored everything from a Coco Chanel purse (valued at $5000 and restored for $79.99) to contaminated coins (in a bank)!
We check before we just discard items and we can clean and restore not just down to the carpet, but the carpet itself. And we don't just clean things to keep ourselves busy. If anything can't be restored, we'll tell you (or the owner) up front.
The whole idea is to help you sell the house. But there is no reason to lose more in discarded valuables that is made in profit by the sale.
Clutter in any house is going to lose sales. Hoarding houses are realtors' worst nightmare – unless they have a contents team backing them up. We can do things that no ordinary cleaning company or "hauling" firm even considers.
The Little Things Make A BIG Difference
Contents professionals have seen lots of houses and know what makes a house into a home (especially in the eyes of a buyer). By request, they will perform such small but significant tasks as fixing the front door bell, painting trim, cleaning baseboads, supplying a new welcome mat and clearing clutter from every room (even personal items on a dresser can cause a buyer to "not see the house as theirs.)"
When you want to help your buyers to visualize themselves in the home, ask the contents pros to help make that possible. Sparkling mirrors, clean light switches, only matching dishes in the cupboards, neutral fragrances, there are dozens of things that can help make the sale and the contents pros know them all.